Zambezi Queen
River Cruise Chobe - Zambezi
Accommodation
The luxurious Zambezi Queen cruises on the banks of the magnificent Chobe National Park with its teeming wildlife and approximately 120 000 elephants and over 400 species of birds.
The Zambezi Queen offers two- and three-day cruises on the Chobe River beside Botswana's Chobe National Park. The boat is about 45m long and three storeys high. The first and second levels of the boat incorporate 14 cabins - all of which have their own private balconies and have been tastefully furnished with either a double or two single beds. Of the 14 suites, 4 are master suites, some with their own private outdoor areas. These master suites are all larger than the 10 standard suites.
Because of the limitations regarding power, none of the suites have been fitted with air conditioning units. However, each private space has been designed with the African summer in mind, and clever use of shutters situated on the outer edge of the deck and fans ensures a cool experience even during times of the year when external temperatures soar.
Another great thing about staying on the Zambezi Queen is that you will have the river all to yourself in the late evenings and at night because all the other guests will have returned to their hotels and lodges.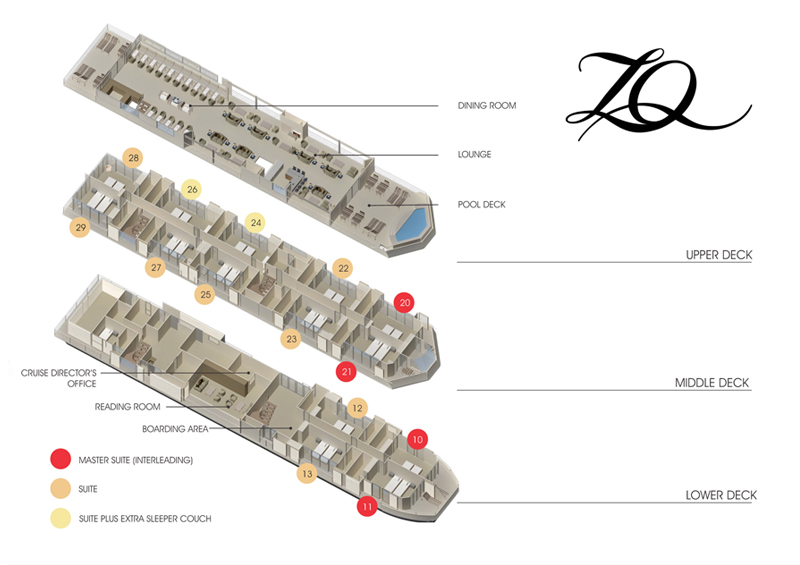 Location / Access
The Zambezi Queen operates on the Chobe River, situated between Namibia and Botswana. The boat is based on the banks of the Caprivi Strip.
From Kasane, it's a short ten-minute drive to the Botswanan immigration office. After clearing immigration in Botswana, guests are transferred by motorboat to the Namibian immigration post to clear Namibian immigration. From there, it's usually about 15 minutes by boat to the Zambezi Queen.
The collection is every hour, on the hour, from 1:00pm to 4:00pm from Kasane immigration Botswana (NB: Border closes at 4:30pm). Guests arriving for the 1:00pm and 2:00pm transfer will be served lunch. A snack will be served to guests on the 3:00pm and 4:00pm transfer.
Activities
Activities include river safaris on the smaller speed boats, fishing and a cultural visit to a village.
Sometimes sailing is difficult due to wind, weather and water conditions and then the boat needs to remain moored.