2003
Katrin and I travel to Africa together for the first time.
The booking consists of nothing but a vehicle rental; my planning leaves a lot to be desired. We sit together in the car in the multi-storey parking lot and work out our approximate route, then off we go! We take the Panorama Route through the Drakensberg Mountains to
Kruger NP
. It's incredibly hot in our tiny tent, but we're reluctant to leave the door open after we spy a hyena at dusk. You never quite know if those things are not going to just jump the fence...
Having reached the south of the Kruger, we drop the car off in Nelspruit and use public transport to get to
Mozambique
. We visit Maputo before taking the bus to Inhambane and later to Vilankulos. Here a blackout paralyses the whole power supply and we're left stranded; there's not even a chance to get local currency. All is dark.
While I attempt to get from
Benguerra Island
to Vilankulos by air, the seaplane crashes into the sea. I am lucky. We finally find shelter at Marlin Lodge, where we can pay by credit card. All is well.
Camping in Kruger NP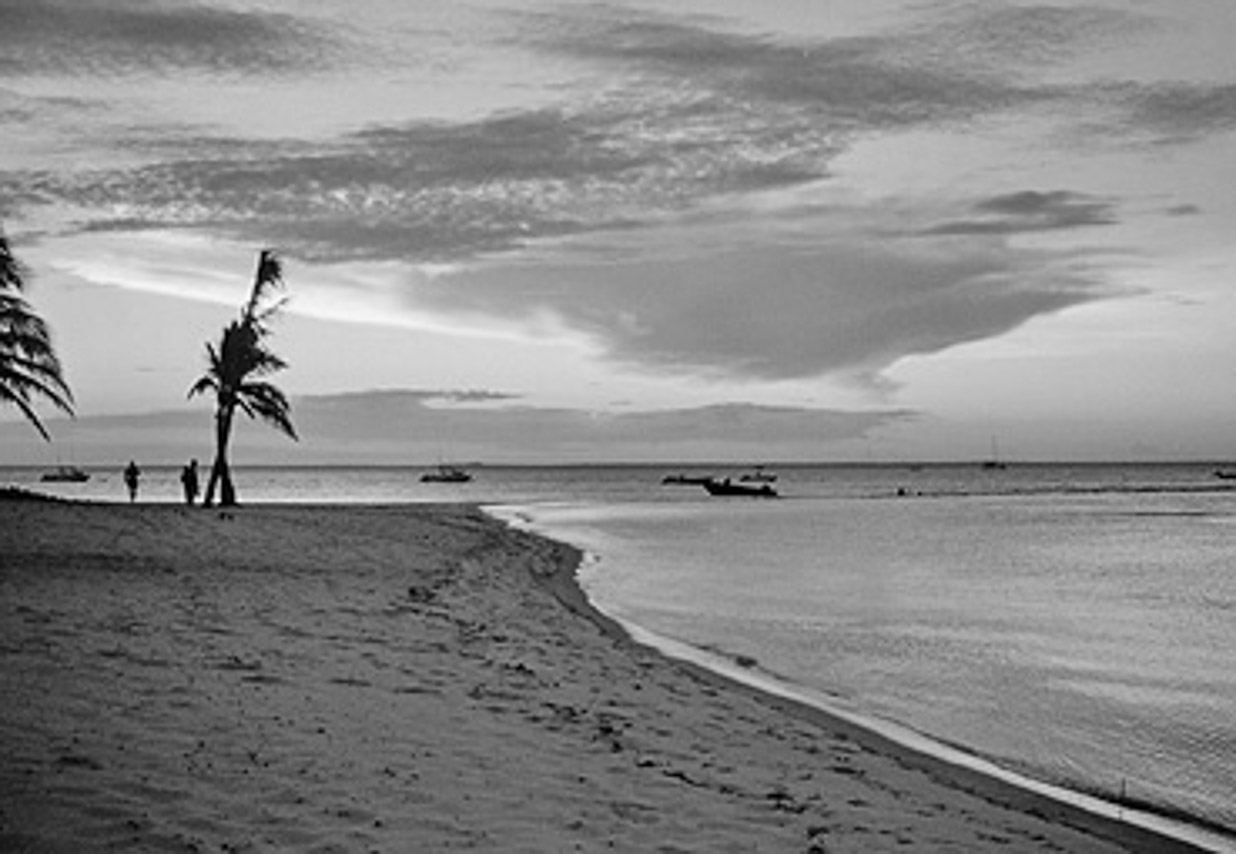 Marlin Lodge, Benguerra Island
2005
Police checkpoint in Zambia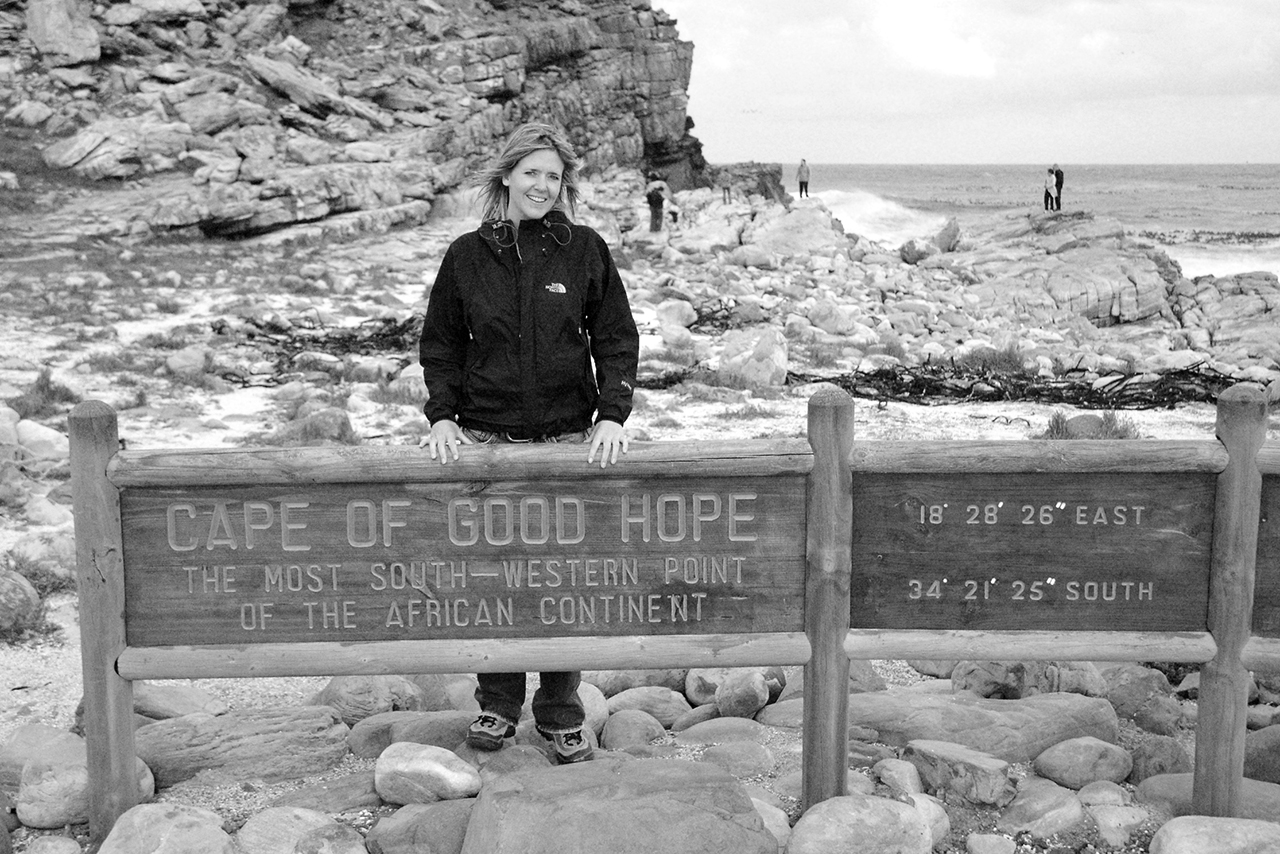 Cape of Good Hope, nothing's lost
We visit
Botswana
and camp in Maun, Xakanaxa, North Bridge and Savuti. I always wanted to come here. What Timbuktu or Kathmandu was for others, Savuti, a place full of magic and dreams, was my Shangri-La in Botswana. Here the lions chased the elephants through the camp at night…
We continue our journey to Kasane, Chobe, Victoria Falls and finally to
Zambia
, where we turn east at Kapiri Mposhi and journey over the escarpment into the South Luangwa Park until we come upon the Luangwa River. We find the exit at Mfuwe and visit our friends John and Carol Coppinger who run
Tafika Camp
in the Nsefu Sector. The rain sets in after a couple of wonderful days and we decide to drive on to Cape Town ... a stupid idea?
Approximately one million Namibia-kilometres later, we arrive in
Capetown
. We're served a wine called "Allesverloren" (engl. all is lost) – and that pretty much sums up how we felt next morning. It's not until we're whipped by the fresh wind on the Cape of Good Hope that life finally regains its meaning.
2006
We marry in September 2006 and make plans to visit
Tanzania
.
As there are no decent Land Rovers with rooftop tents and camping equipment in Tanzania we have such a vehicle driven from South Africa to Dar-Es-Salam. We drive to Moshi, Arusha and via the
Ngorongoro Crater
to the
Serengeti
. We get hopelessly lost in the Serengeti and miss getting stuck in the mud somewhere in the Ndutu Region by a hair's breadth. Navigation is tough. Dirt everywhere.
We want to spend New Year on the beach. We get lucky and find a place at
Fundu Lagoon on Pemba Island
. A nice sojourn, but it rains here, too.
Back in Dar-Es-Salam, we pack up our Land Rover and journey on towards
Selous
/
Ruaha
. The whole city is knee-deep in water and things are not expected to improve. Landslides on the roads to Selous give us cause for concern and, as the weather's not due to get better anytime soon, we give up and fly back home.
That was our cut-short honeymoon.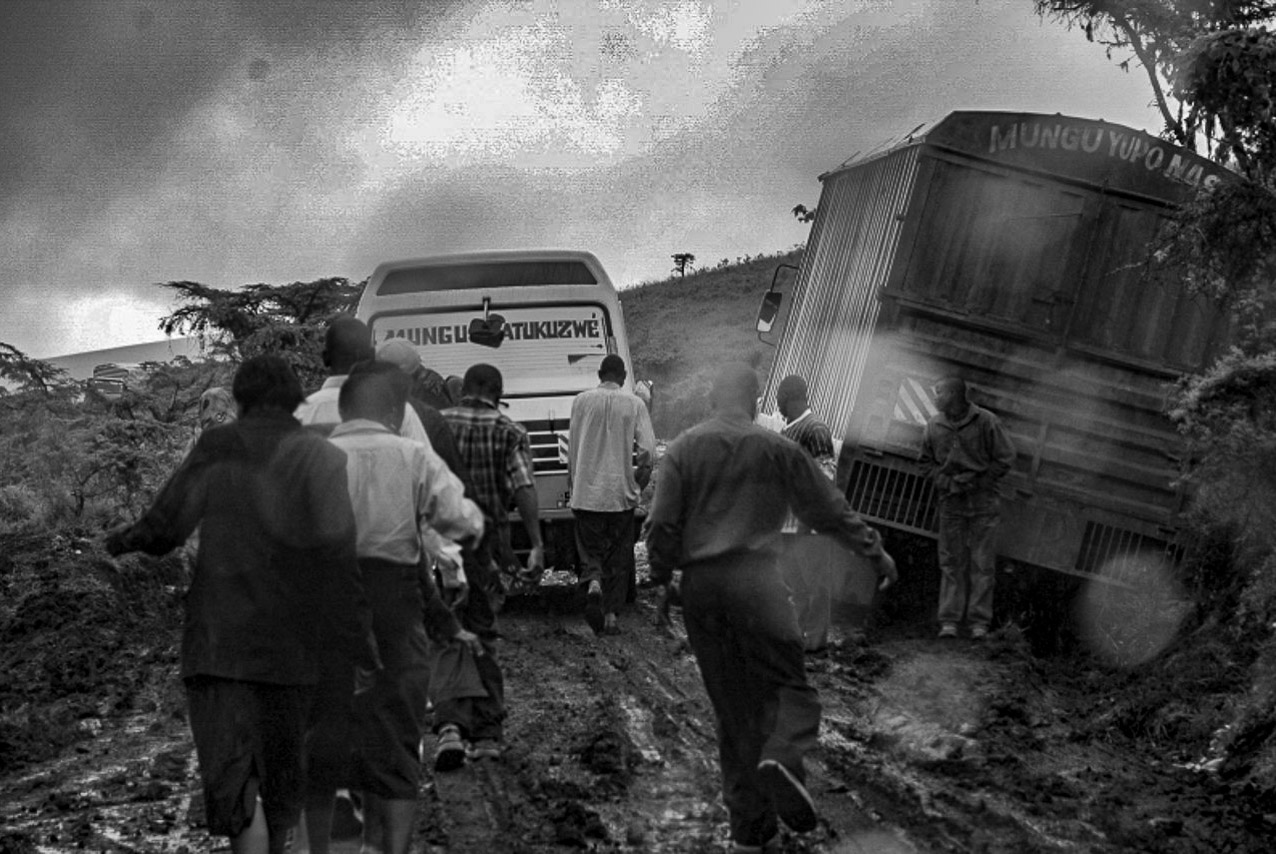 Mud fight on Ngorongoro Crater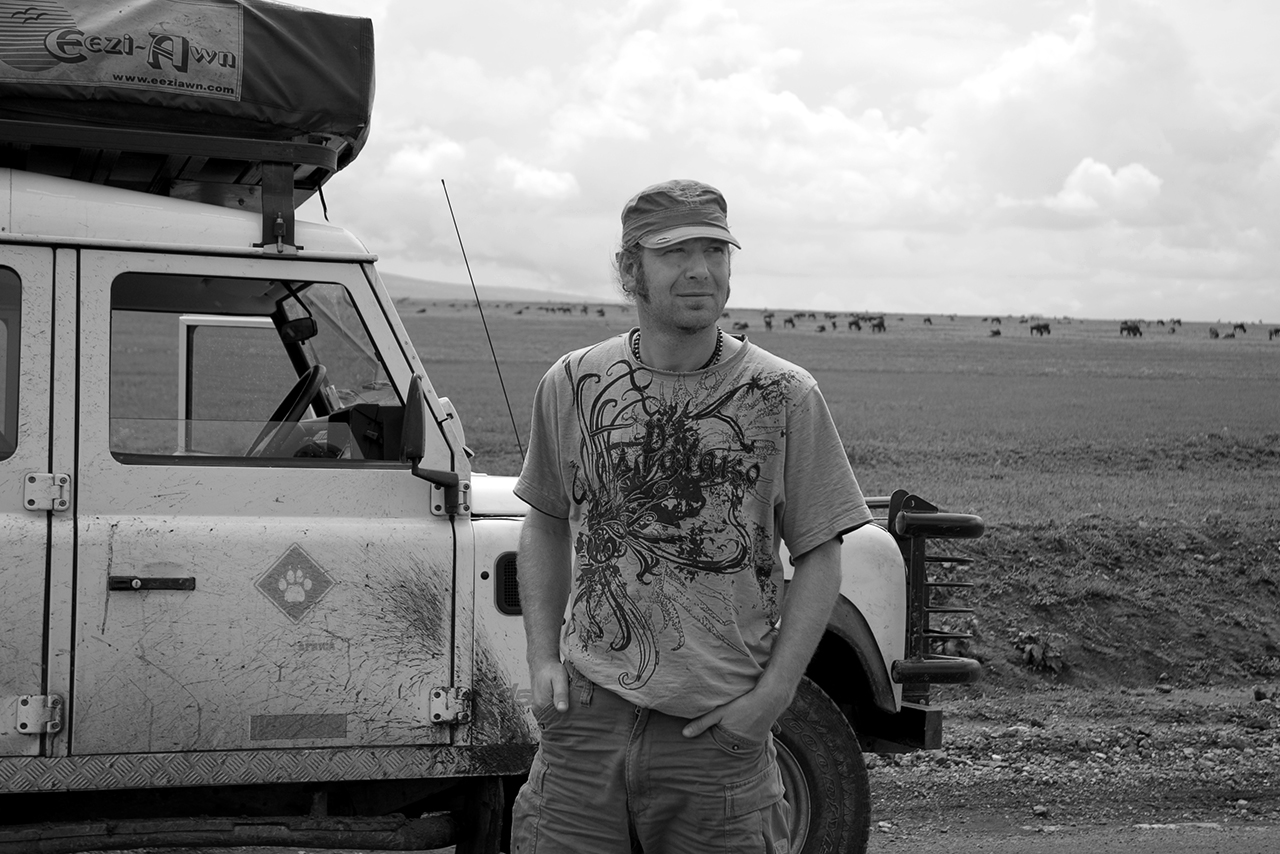 In search of the Serengeti
2007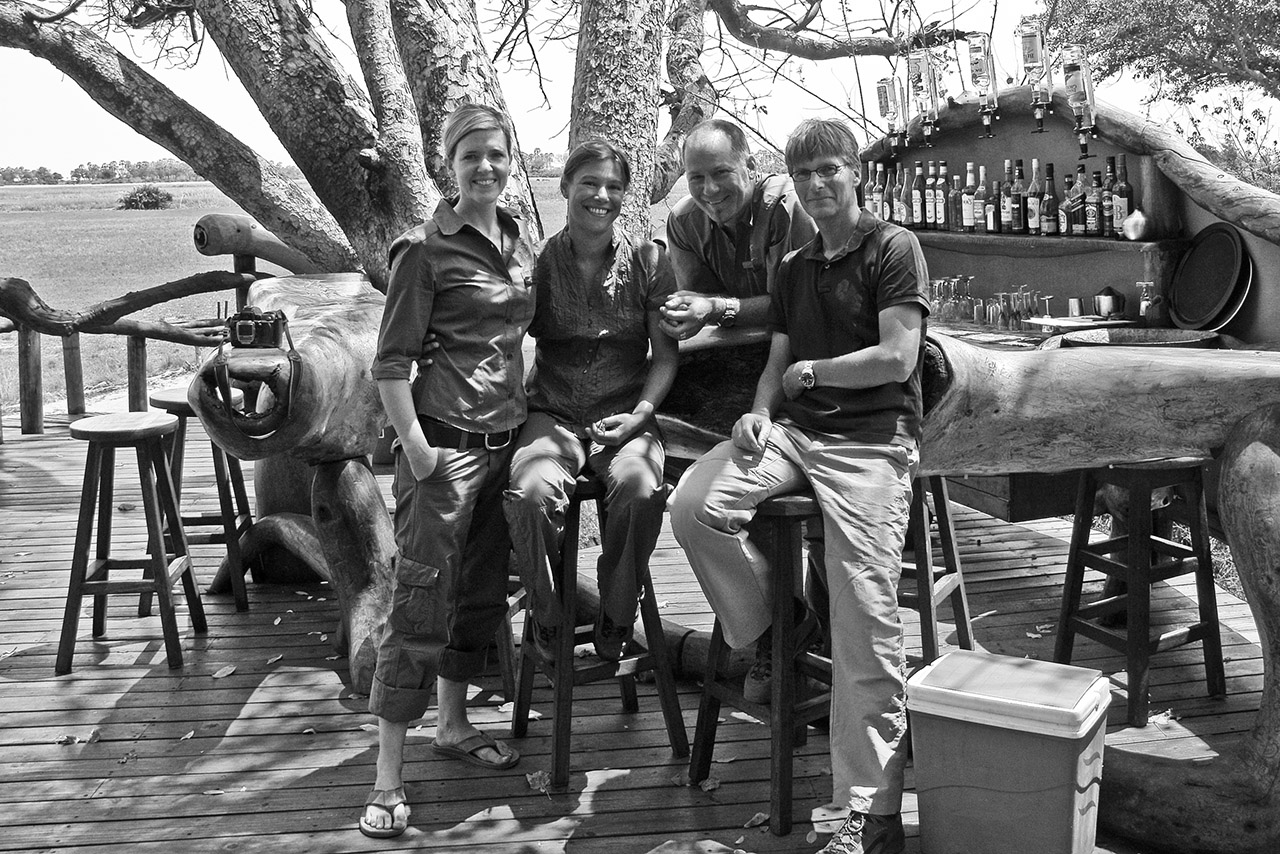 The legendary bar at Tubu Tree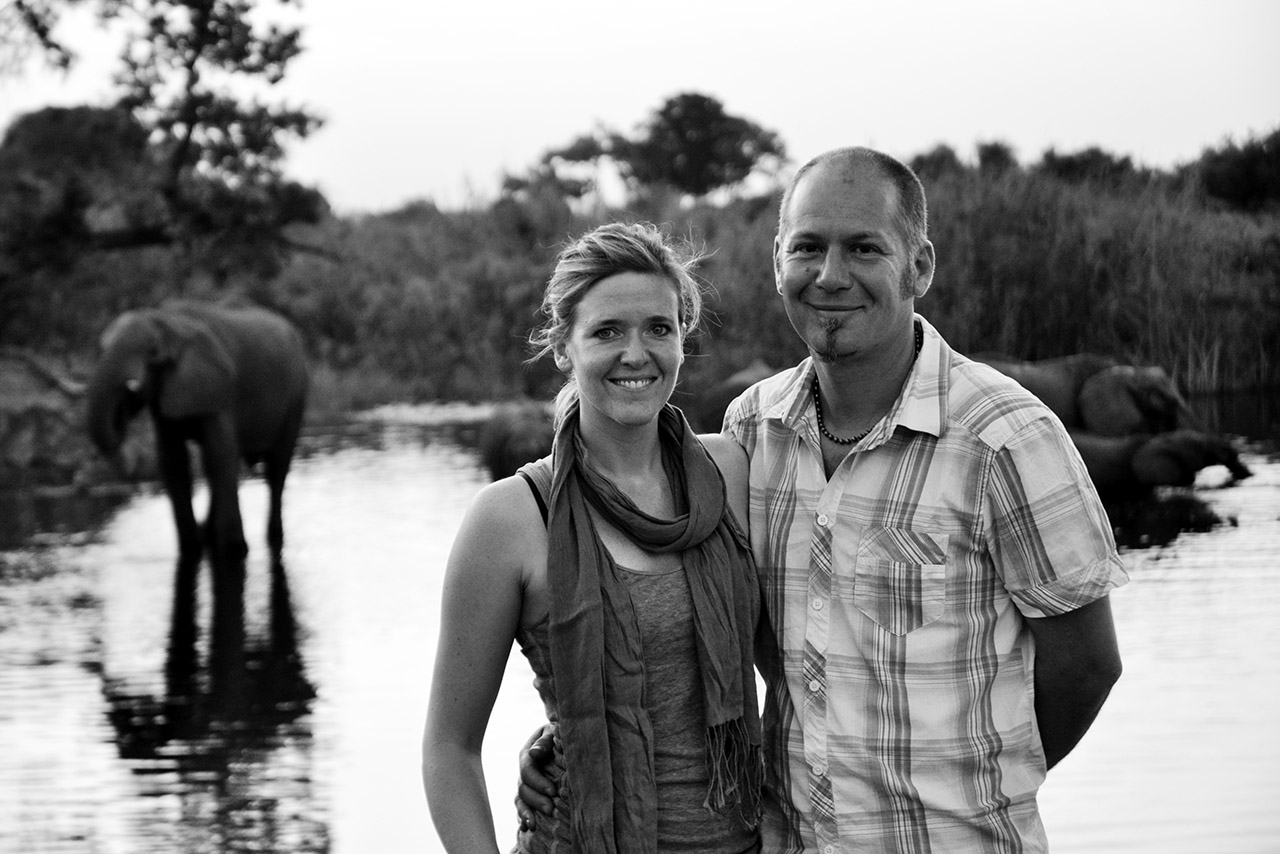 Swiss meet elephants
We sell everything, give up our independence and fly to Johannesburg. Here we buy a Land Rover and train in the Kruger NP's Pafuri Region to become FGASA Level-1 Guides.
After forking out a small fortune for the usual expensive repairs on the Land Rover, our journey takes us via iSimangaliso to
Thonga Beach
and from there through the border posts at Punta do Ouro to Maputo. We realise, however, that working on a beach or island is not for us, our interests lie in the wonders of wilderness and wildlife. We push on to
Botswana
.
We scour every operator in Maun that runs a camp in Botswana and within a week land jobs as Camp Managers with Ngamiland Adventure Safaris, which owns the camps Jao, Jacana, Kwetsani and
Tubu Tree
, and is in turn represented in the market by Wilderness. A stroke of luck.
We're flown to Tubu on a rainy Monday morning where our work in the Okavango Delta begins. We live in a 3 x 4m tent with an outdoor bathroom and have 40 employees whose names we simply can't remember at first.
2009
After our thrilling time in
Botswana
, we return to Switzerland and go online with our
www.swissafrican.com
website. We now organise safaris, initially to
Namibia
and
Botswana
, where we already know all the camps really well.
Nothing happens for the first two weeks – and we're hoping for three bookings a month! The first ring of the phone frightens us both half to death. But we're also a very persuasive couple and we get our first booking in the bag.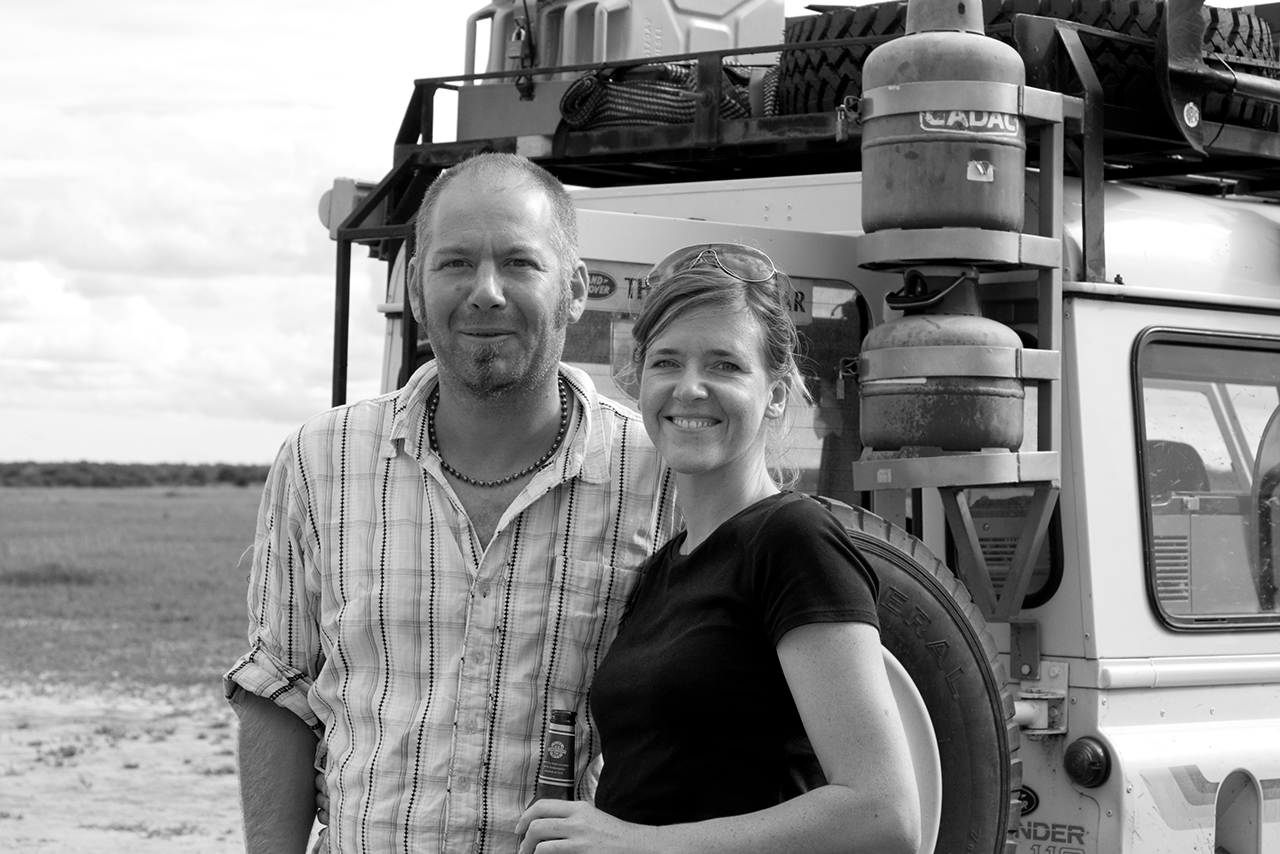 Farewell to Botswana
2012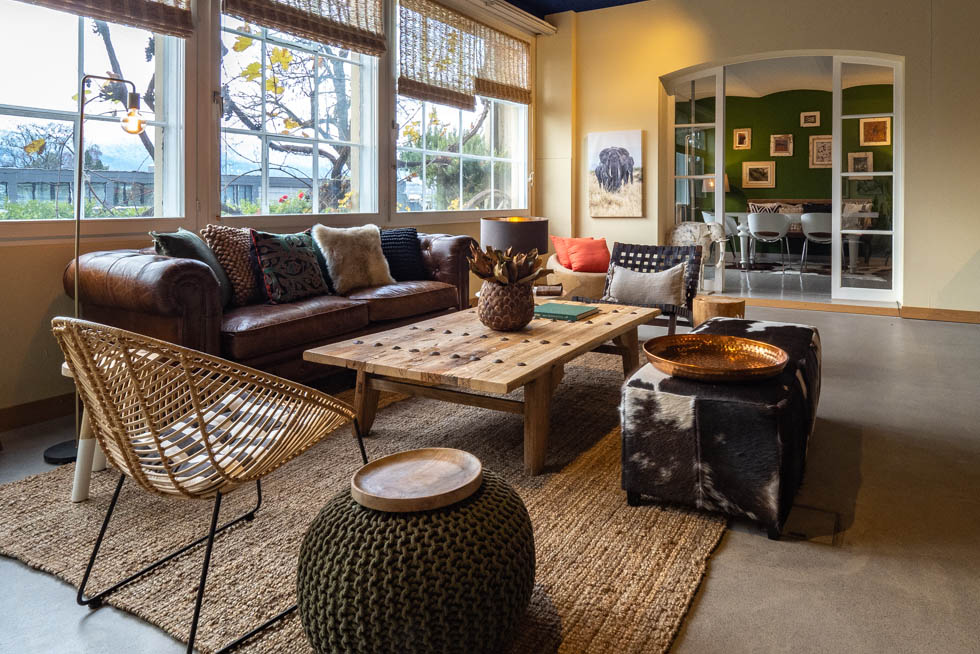 Our new office in Zollikon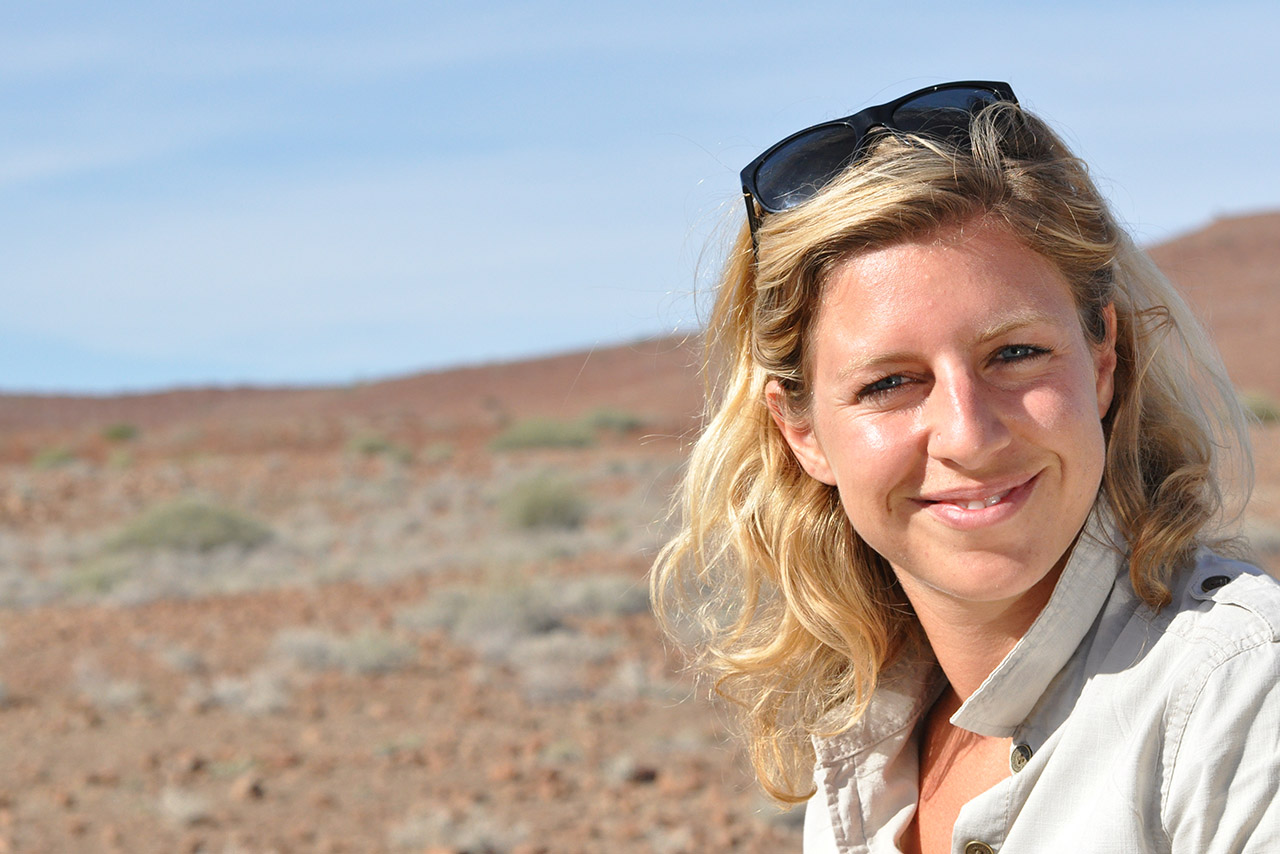 Andrea at Desert Rhino Camp
We achieve a turnover of CHF 3 million and have become one of Wilderness' most important partners within three years. We now cover the entire south of Africa, that is
South Africa
,
Botswana
,
Namibia
,
Zambia
,
Zimbabwe
and
Mozambique
.
The first country in East Africa to strengthen our portfolio is
Tanzania
. Tanzania delights with its stunning and varied landscape and the ease with which it enables a safari to be combined with a beach holiday on the Zanzibar Archipelago.
We make it our promise to sell only those camps/lodges that we know from personal visits. And this promise still applies today – we know 99% of the lodges on our website from one or several personal visits. Only those that we find completely satisfactory are included in our portfolio.
Andrea Grossmann joins our team. She's also worked for Wilderness in the past and knows Namibia very well. We rent a large office at Dammstrasse 27 in Zollikon and do a complete refurb.
2015
We decide to donate part of our profits to projects in our destination countries and establish the
SwissAfrican Foundation
. Since 2015, together with our guests, we've been donating around CHF 100'000 a year to projects in Africa.
We visit the
Seychelles
- the first of many trips to a country boasting nature that truly inspires. We're only interested in the private islands that offer a truly unique beach experience and the promise of spectacular nature.
We expand our portfolio to include
Rwanda
and
Uganda
- countries that we also visit on several occasions over the course of time. Gorilla trekking is highly popular and it's an experience that we also find impressive.
We visit the Virunga NP in the Democratic Republic of the Congo and go gorilla trekking here as well. We decide to support the
Virunga National Park
through the SwissAfrican Foundation.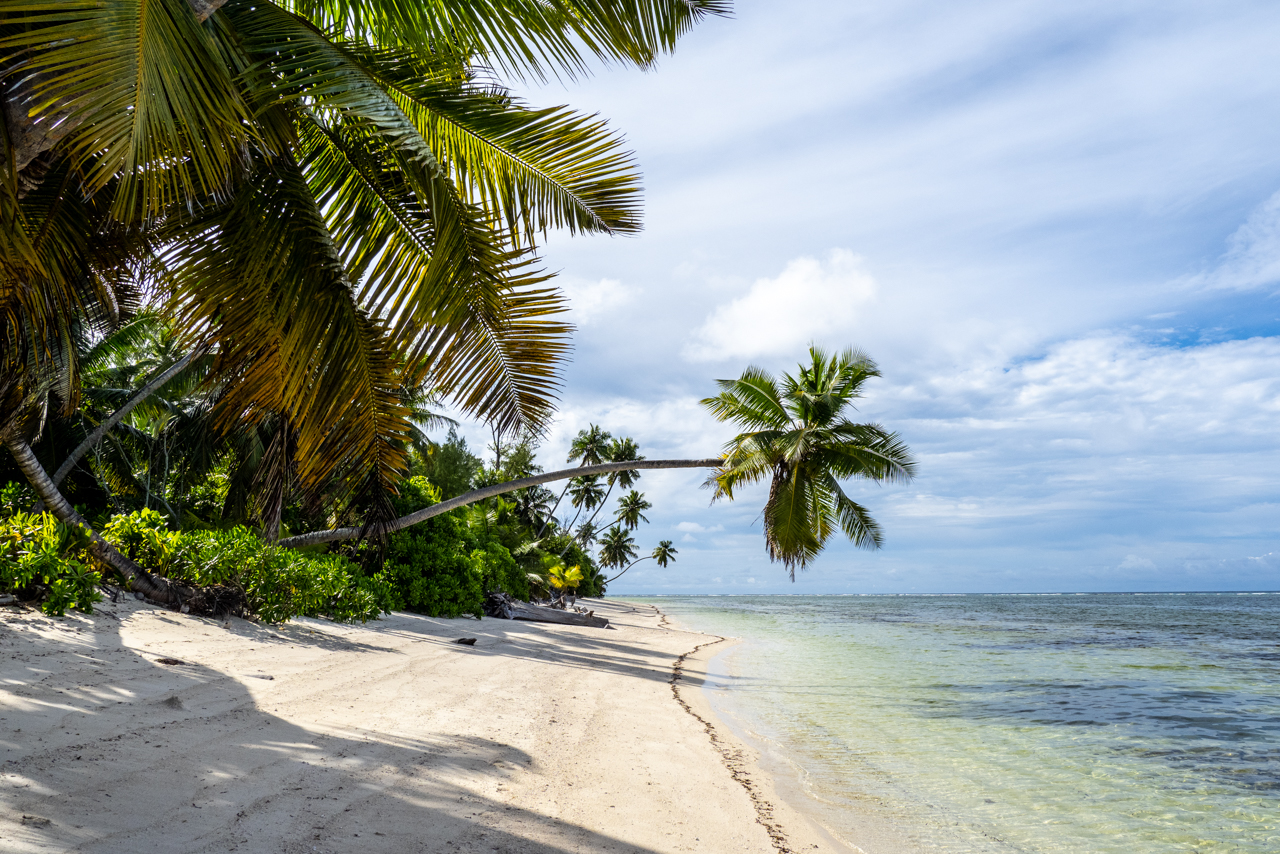 Lost in paradise - Seychellen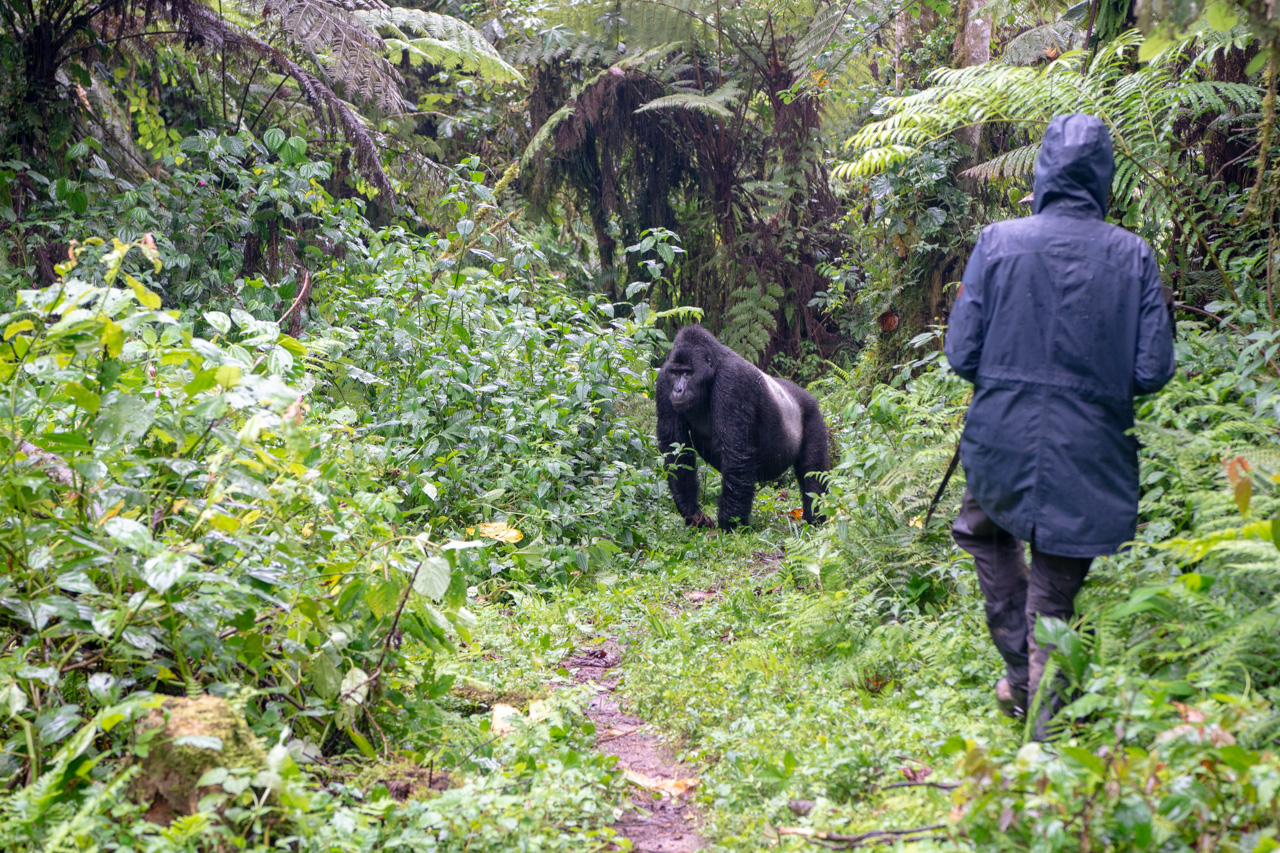 Gorilla afraid of Katrin
2017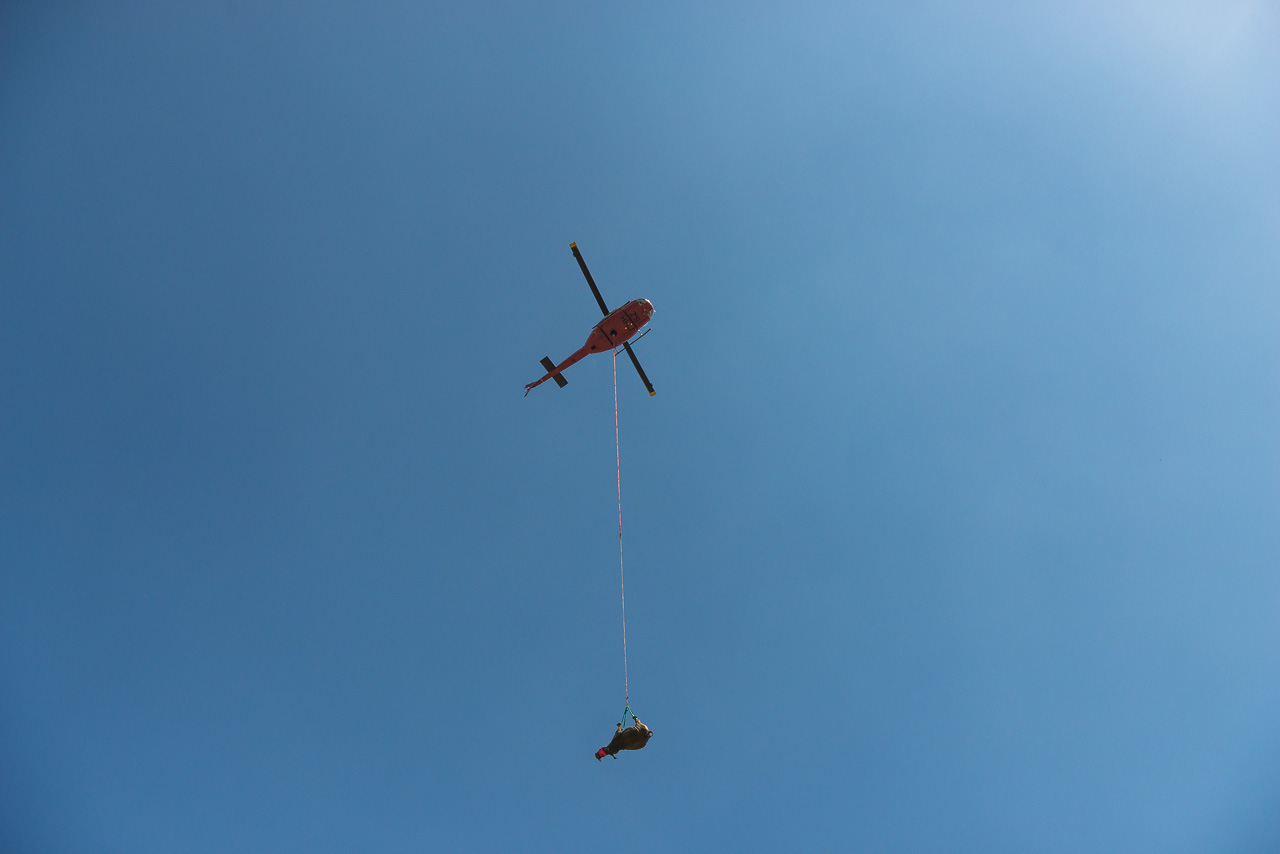 Rhino airlifted by helicopter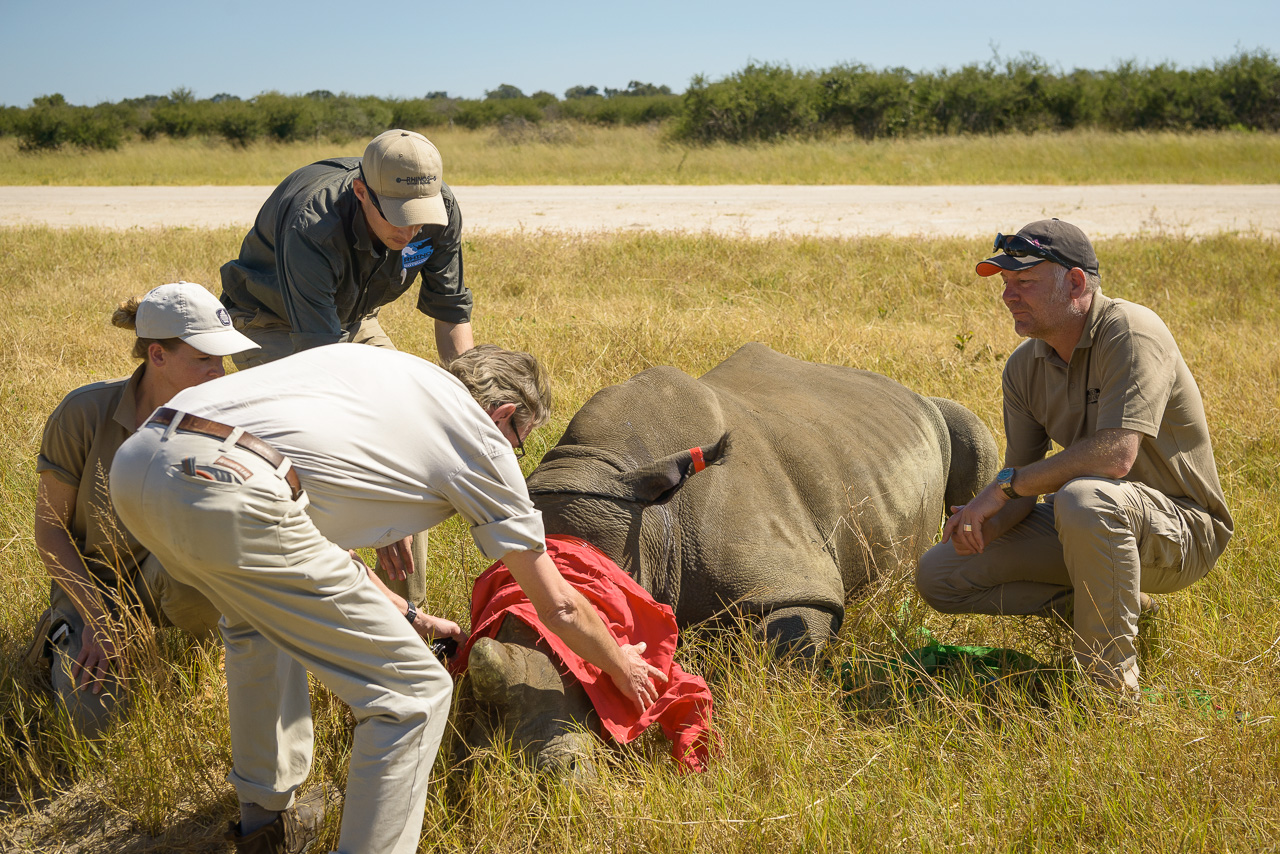 Arriving at its new home
Rhino poaching increases massively as Asia's influence in Africa grows. Poaching skyrockets between 2008 and 2015. South Africa in particular sees the
slaughtering of up to a thousand rhinos per year
at times during this period.
With this in mind, endangered rhinos are being moved from South Africa to Botswana as part of the "
Rhinos without Borders
" project in the hope that they will find a safe home there. The SwissAfrican Foundation joins forces with the Great Plains Foundation and &beyond at the end of March 2017 several rhinos are translocated from South Africa to Botswana. The 45,000 USD cost of moving one rhino is covered by the SwissAfrican Foundation.
The SwissAfrican Foundation co-sponsors the
transfer of another rhino
in a second translocation action, which means our foundation has now helped two rhinos find a new and secure home in Botswana.
We know our rhinos are doing well and we donate annually to
Rhino Monitoring in Botswana
to make sure that they continue to live a life in safety.
2018
Our turnover reaches CHF 6 million for the first time.
Kenya
is the last country in East Africa not yet in our portfolio. We have to think long and hard about this one as we have doubts about the quality of accommodation options available here and question whether they match our exacting standards. However, as we're now able to offer safaris away from the masses in private conservancies in the most important safari region, the
Maasai Mara
, we pack our guests off to Kenya with a clear conscience. The feedback is tremendous.
It feels like half the world has wanted to travel to
Namibia
since 2016 and we can hardly keep up with the bookings. Larissa Hintermann joins our team. She travels to Namibia and Tanzania with Katrin to gets to know our world of safaris.
We hold two events for the SwissAfrican Foundation at the Kaufleuten. One in May 2018 with Jeff Muntifering who introduces the
Save the Rhino Trust in Namibia
vorstellt. This allows us to send approximately CHF 10'000 to Namibia.
The second takes place in November when we receive a visit from
Dereck & Beverly Joubert from the Great Plains Foundation
who inspire 200 guests with their fantastic presentation. We donate CHF 40,000 to the Rhino Monitoring in Botswana.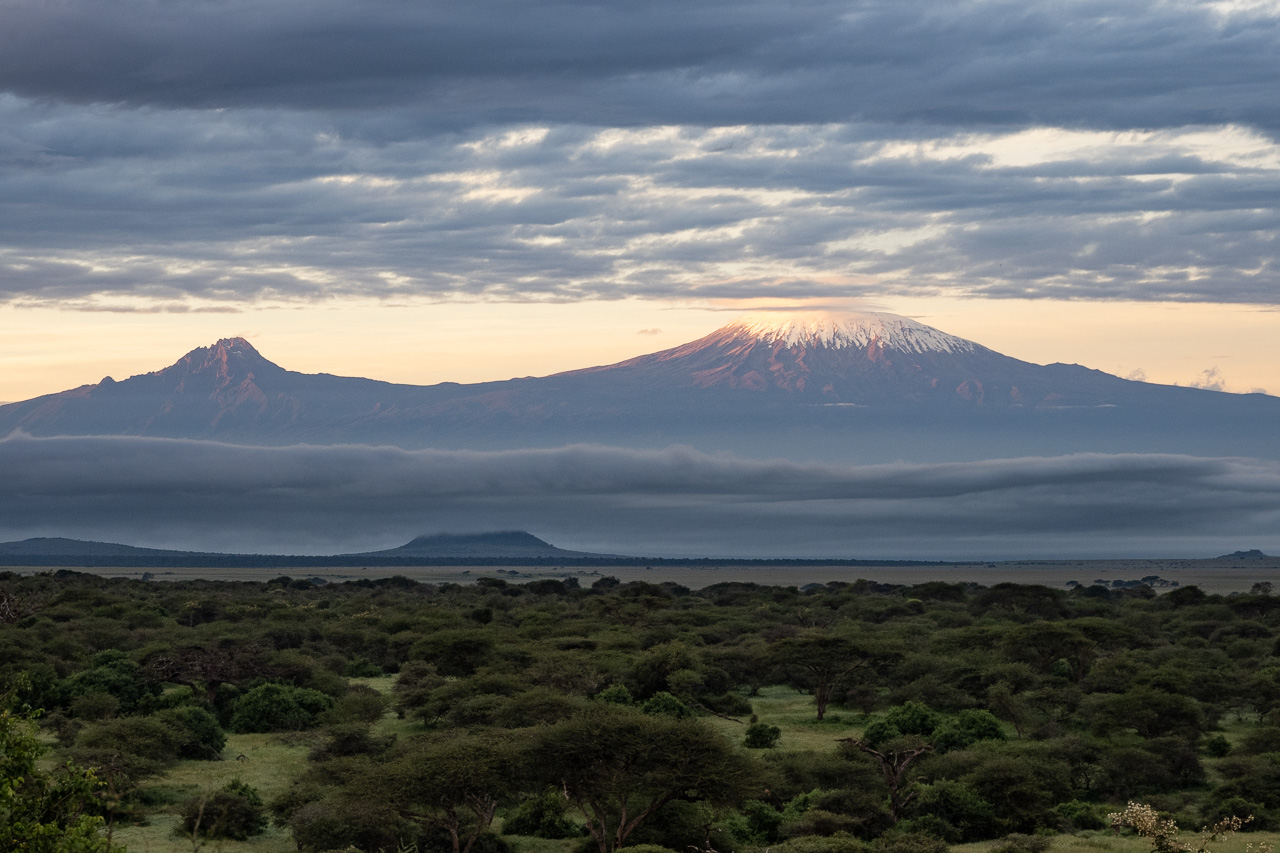 Kenia - Chyulu with Kilimanjaro in the background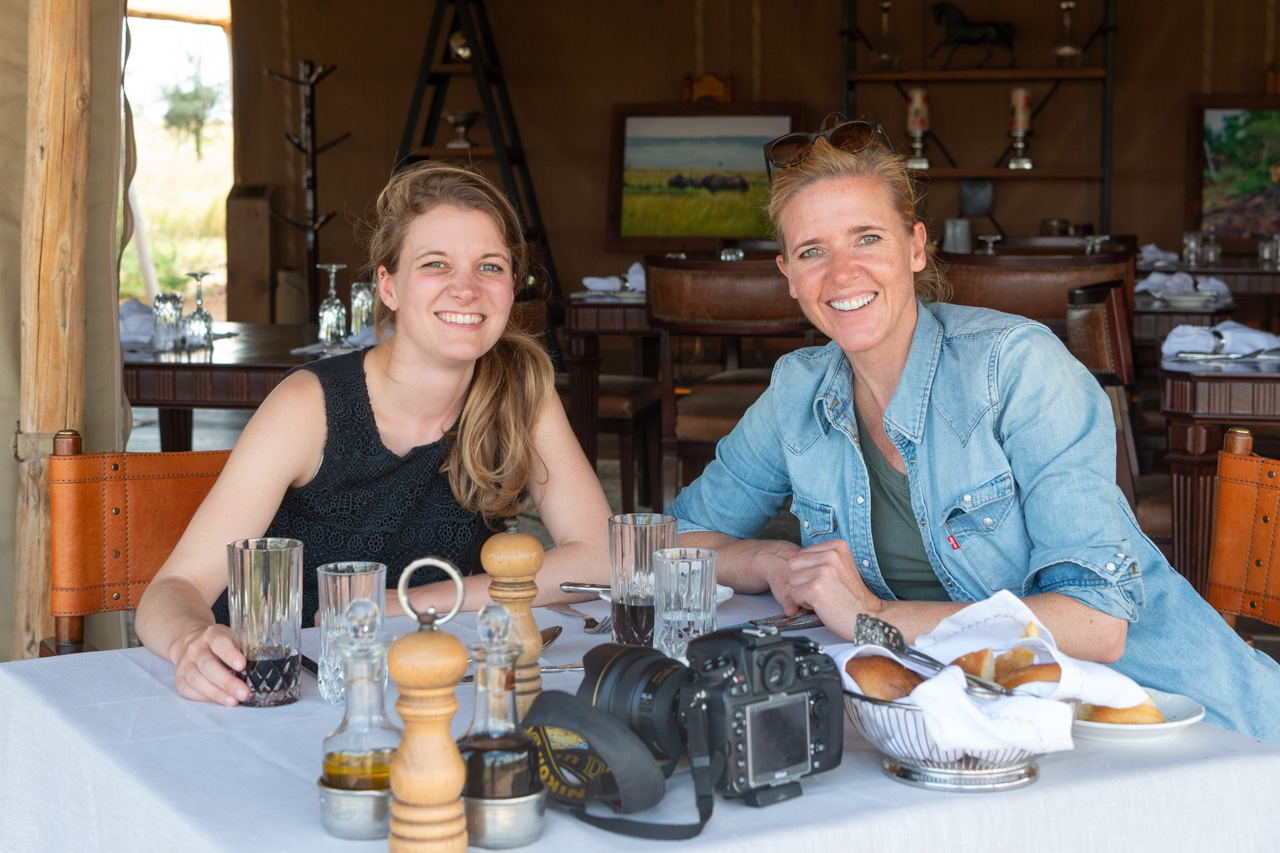 Larissa and Katrin in Tanzania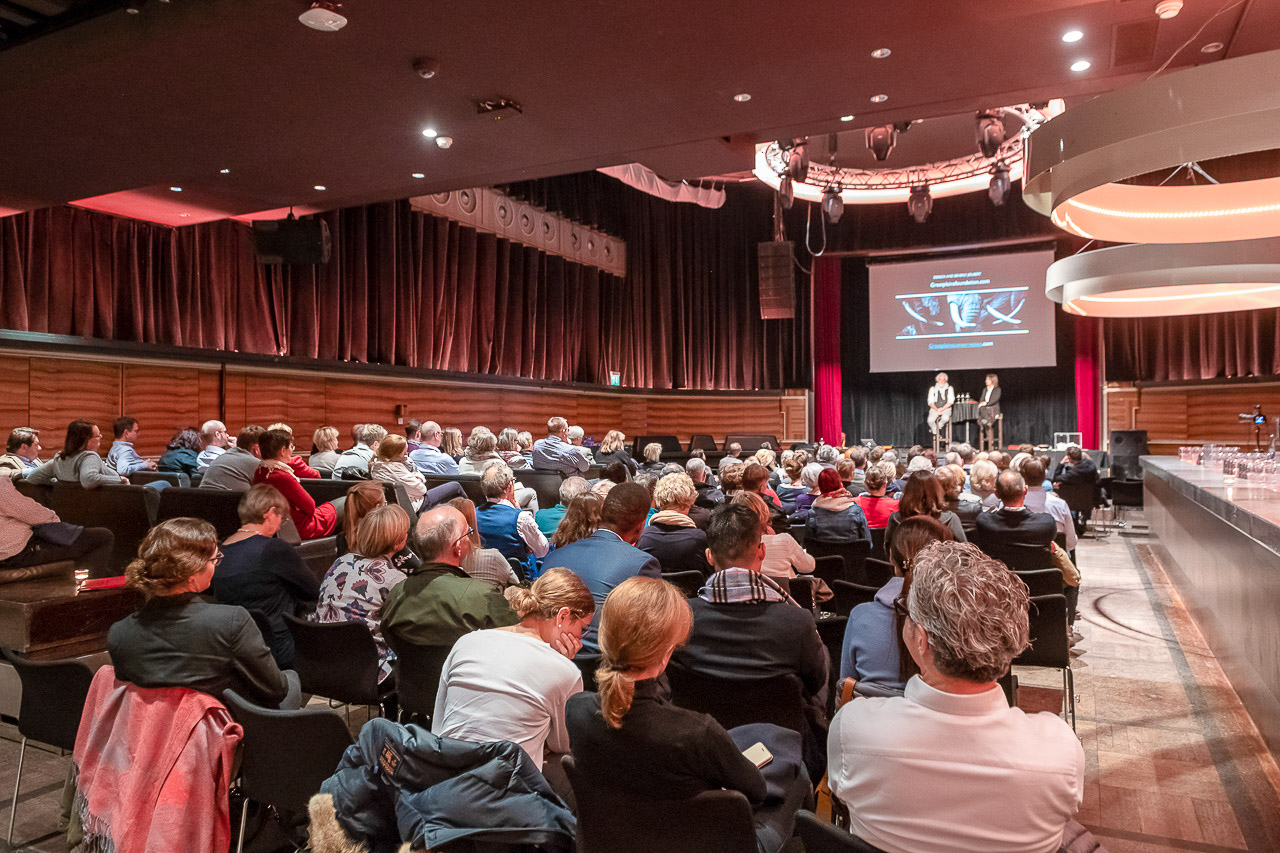 Dereck & Beverly Joubert at the Kaufleuten
2020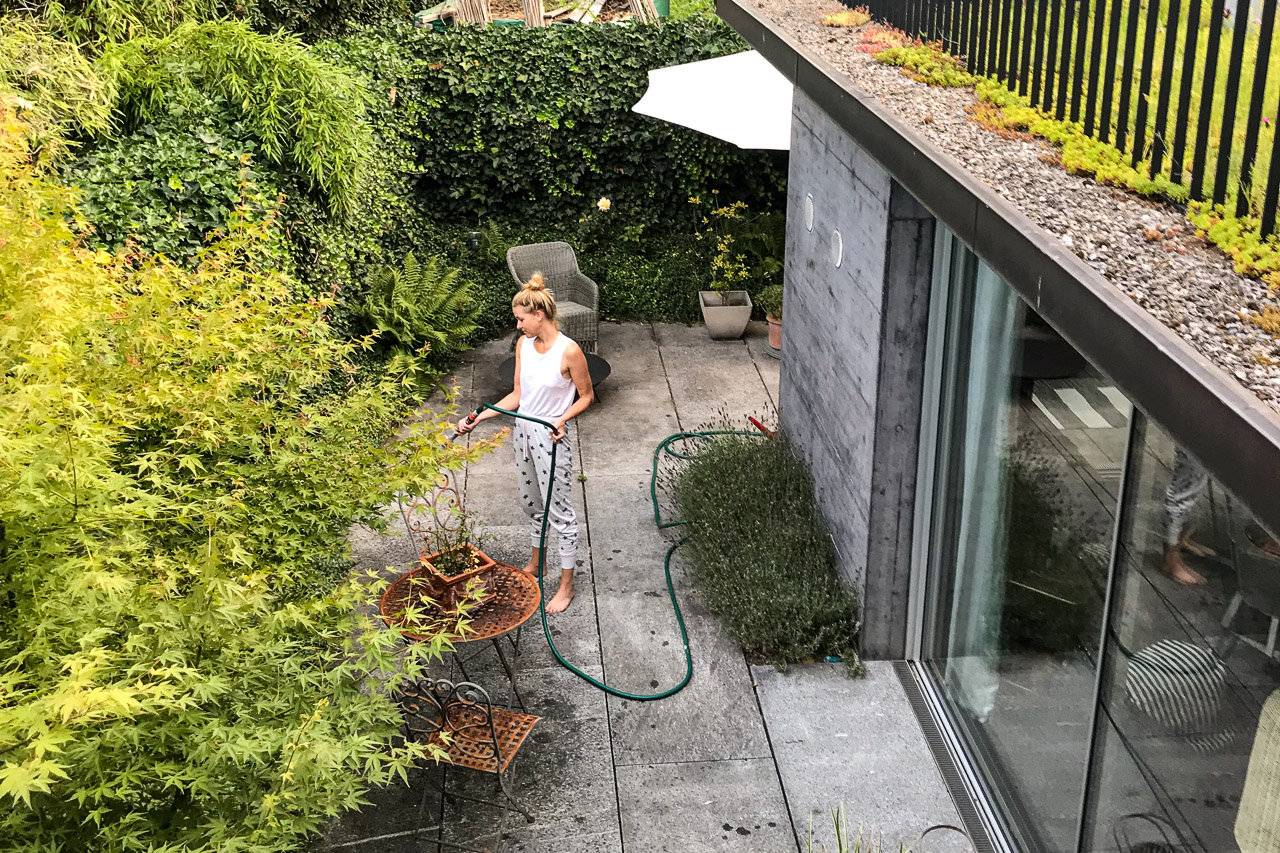 Home office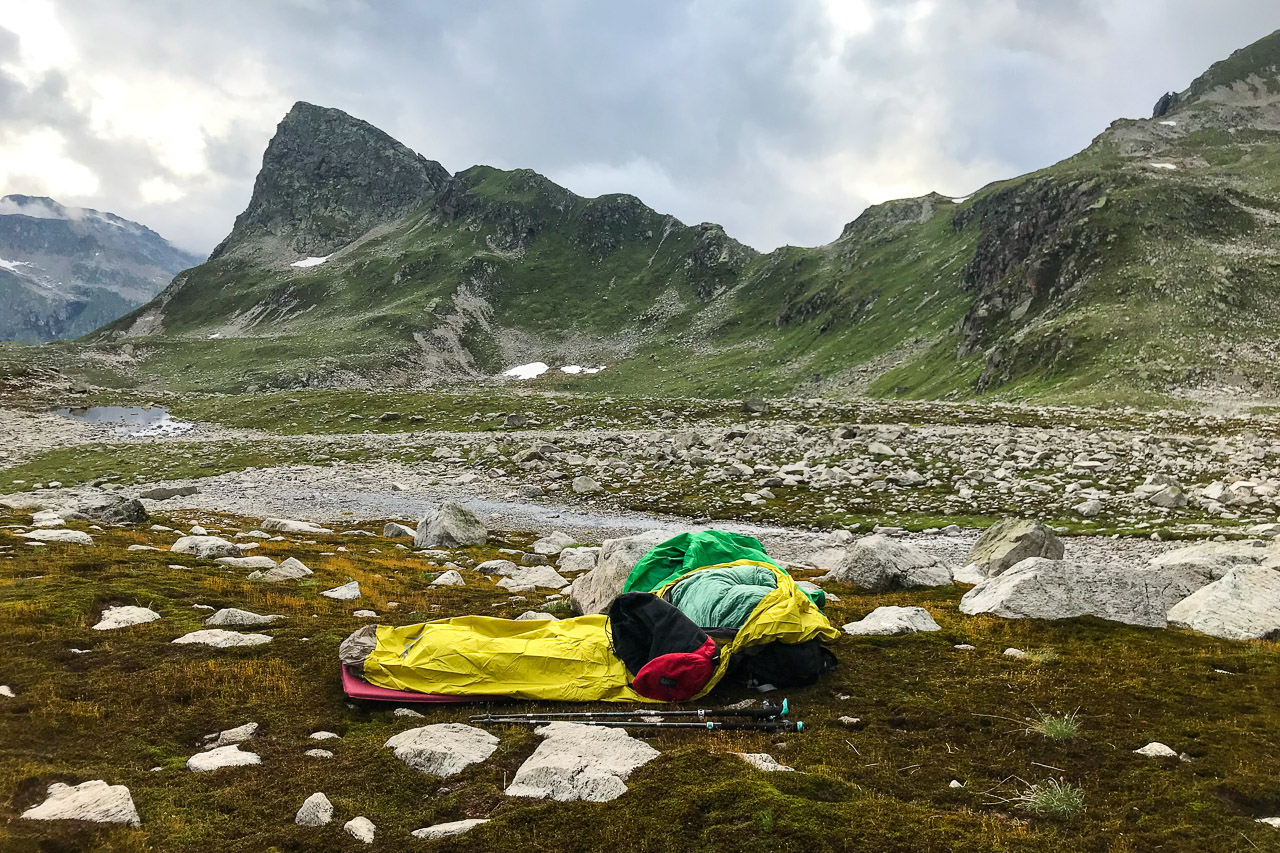 Holidays in Switzerland
The pandemic rolls towards us. From March on, flights to Africa are cancelled, countries close their borders and a general sense of helplessness begins to spread.

We quickly postpone all trips for at least one year and negotiate the conditions under which this can happen with our partners. The majority of our guests are extremely understanding and supportive.

Most camps in Botswana close and will not re-open again until April 2021. Namibia is holding up surprisingly well and still remains an option. Our greatest problem, however, is South Africa – most flights to our southern destinations go via Johannesburg, which spells disaster when South Africa goes into lockdown for an extended period. In addition, the most important local airlines file for bankruptcy. We lose 95% of our sales.

We begin a "COVID-19 SUPPORT" campaign through the SwissAfrican Foundation for the parks in Africa. This allows us to send additional sums to support the rangers on the ground.
2021
Travel remains a challenge, but almost anything can be accomplished with a little bit of good will and a few PCR tests. However, we lose most of our bookings from January to March due to a lack of flights or quarantine measures, but we're able to carry out the vast majority of trips planned for post-April 2021.
We use these interim periods to do some travelling ourselves. We visit
Namibia
in October 2020,
Tanzania
in December/January 2021,
Botswana
in June 2021 and we travel to
Kenya
, the
Seychelles
and
Mauritius
from mid-December until the end of January 2022.
In November 2021, the Omicron variant is discovered in southern Africa. In a panic, and against the recommendations of the WHO, many countries impose an entry ban. As it turns out, the messenger was punished by a measure that had zero effect: Omicron had hit Europe long before.
We're convinced that everything will be pretty much back to normal by April 2022 at the latest.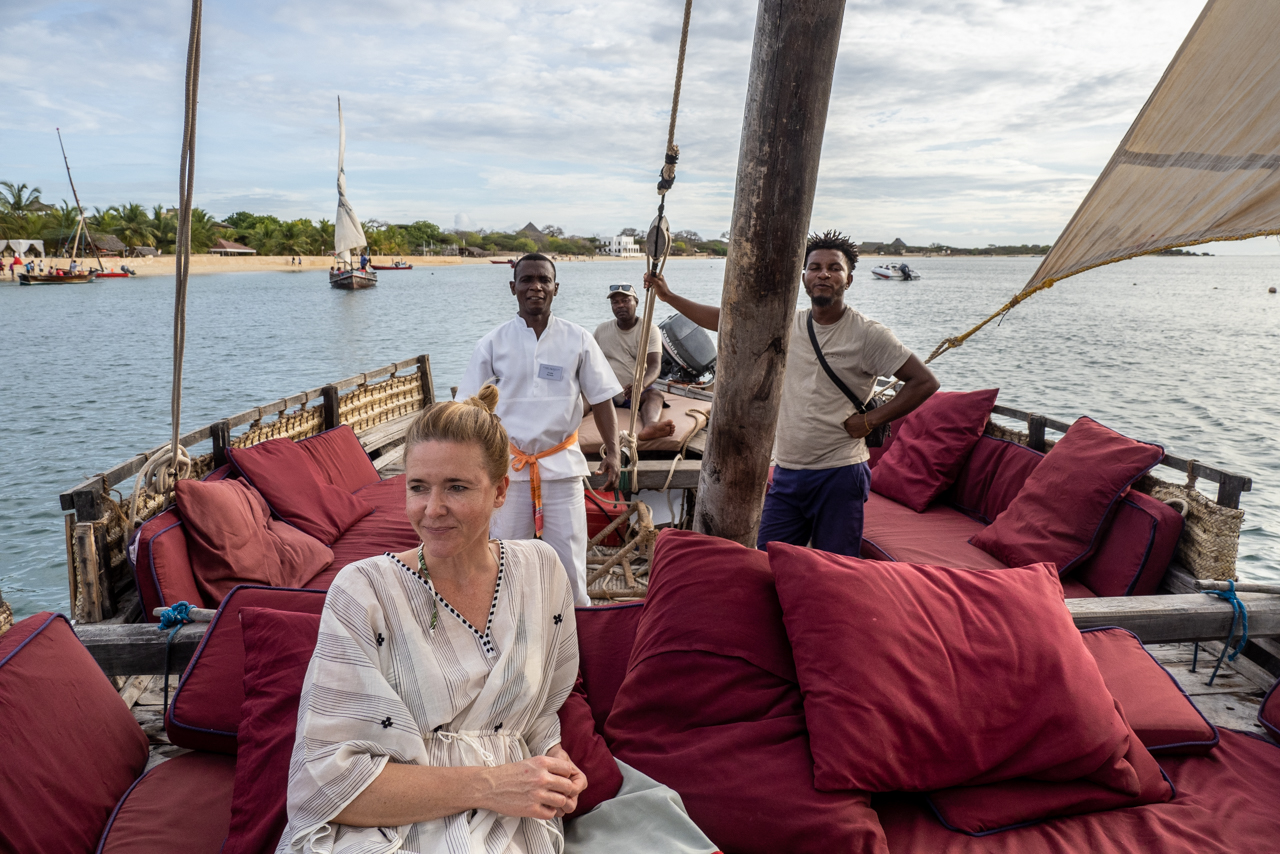 Dhow trip in Lamu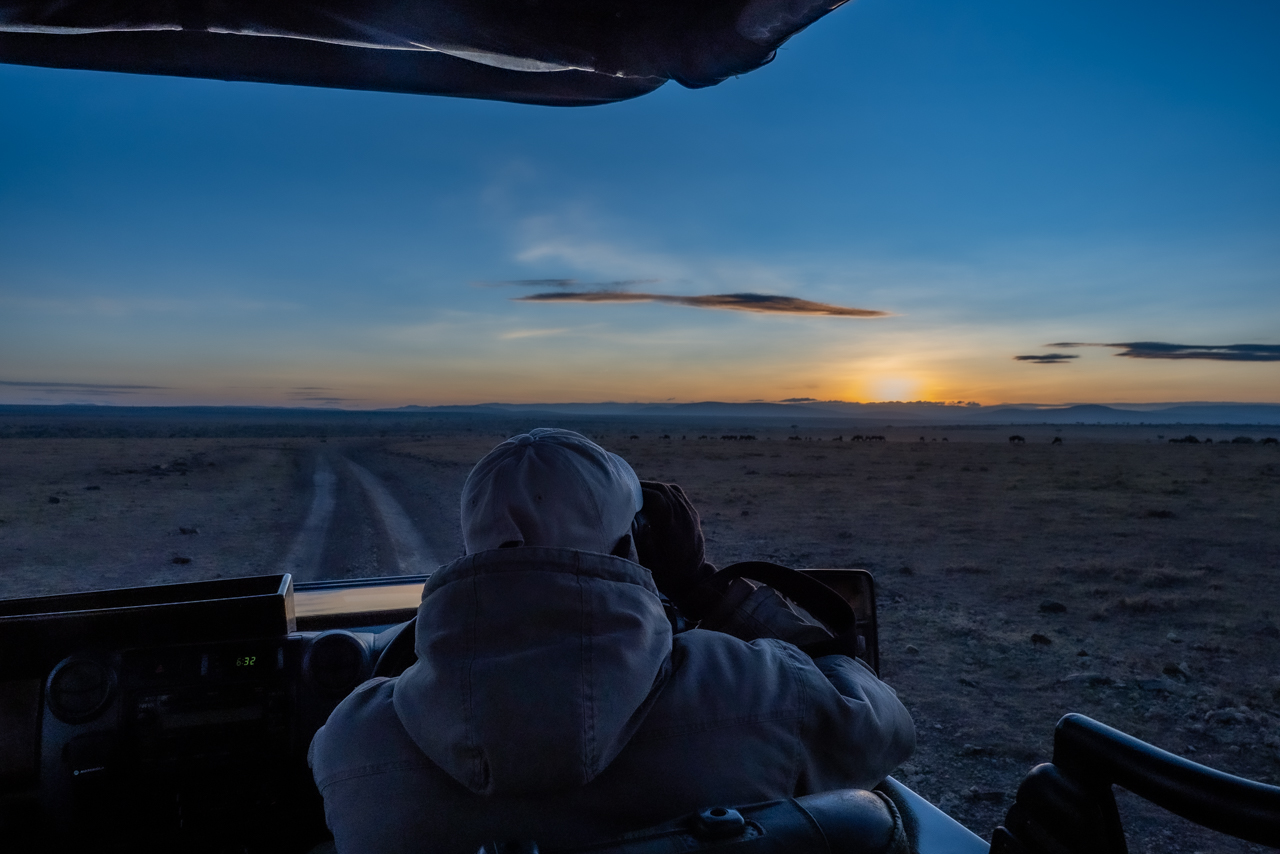 Sunrise in the Maasai Mara
2022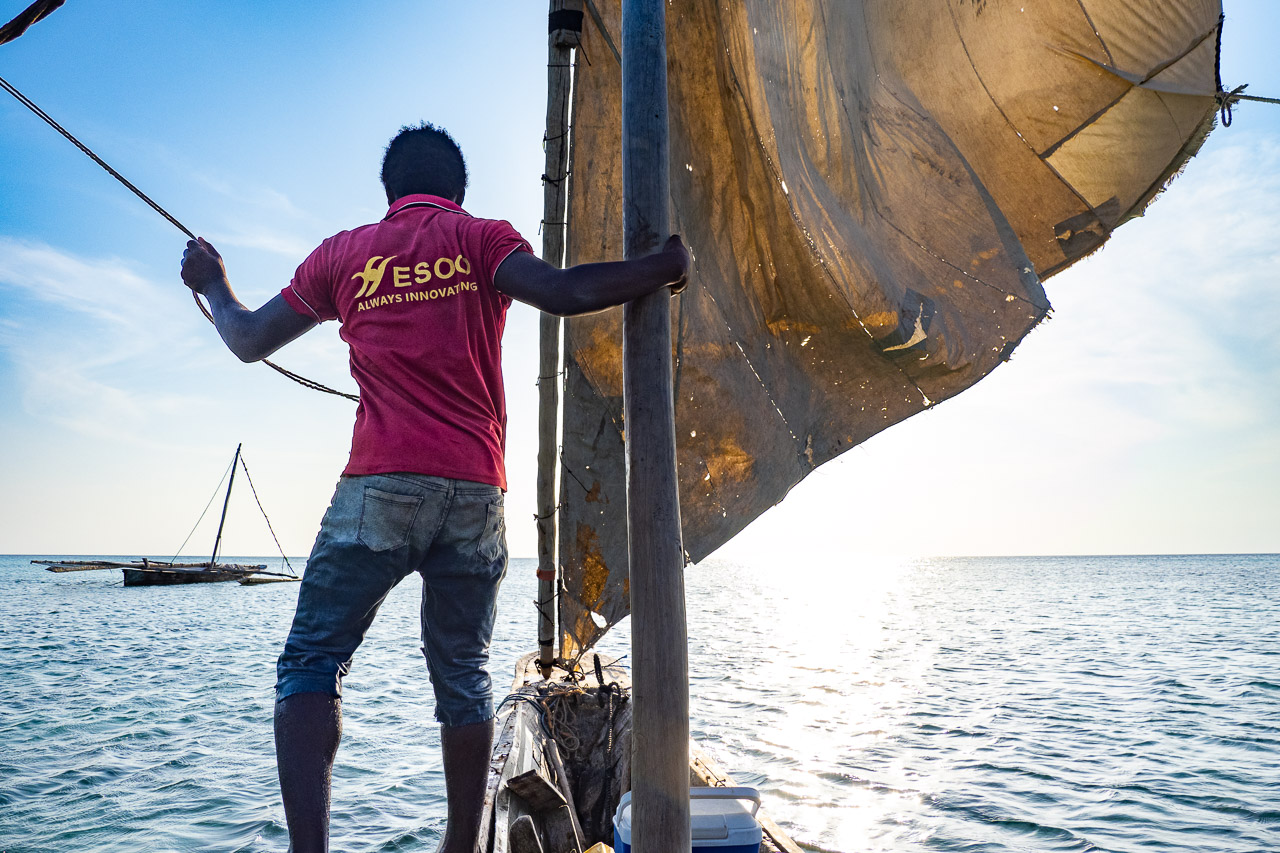 Ngalawa Pemba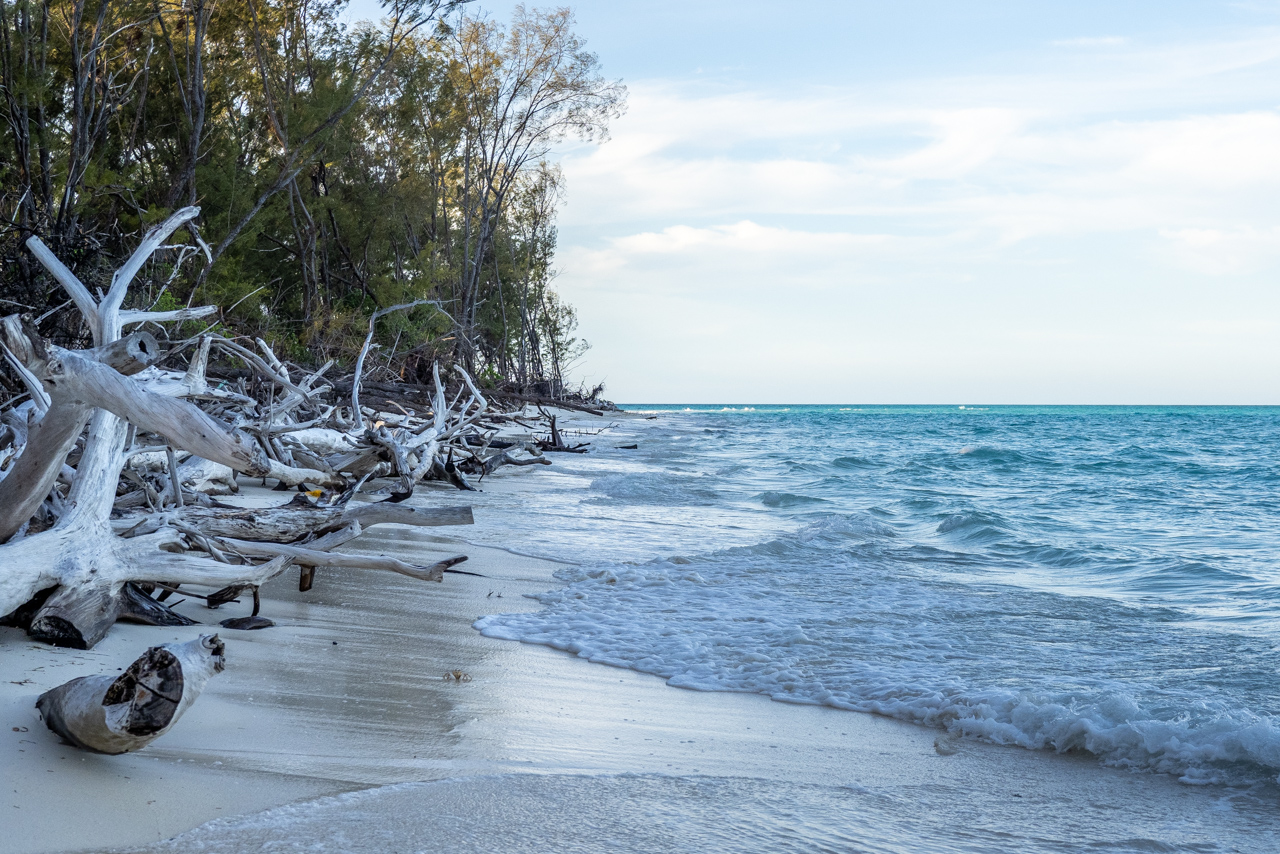 Mnemba Island
Well, that turned out to be a pious hope.
We breathe a sigh of relief when the vast majority of Corona restrictions in Africa are lifted at the beginning of 2022. However, the euphoria lasts only one week, then Russia invades Ukraine and instead of the pandemic, war is now the big issue. In times of crisis, people tend to stay closer to home and become wary of long-haul travel.
We are launching a campaign through our SwissAfrican Foundation at the end of the year to support a resettlement of animals in Zimbabwe, saving more than 3,000 animals.
Rewild Zambezi
is a complete success - Many thanks to all donors!
Our team travelled at the end of the year in search of the best beaches in Tanzania and spent some relaxing days at the Indian Ocean in warm temperatures in preparation of the expected booking frency in 2023.
This could also be of interest to you