SwissAfrican
Packing list
Not sure what to bring for your upcoming trip to Africa? We can offer you competent and efficient assistance in packing your travel bags.
Ana Maria Haldimann is our personal shopper of choice. Touring the relevant stores in Zurich or Bern takes about two to three hours and prepares you perfectly for your safari.
Ana, a former fashion editor, has already traveled with us and knows not only what shouldn't be missing on safari, but also in which stores you'll find the right clothes, travel bags, accessories and tools.
Contact SwissAfrican or Ana directly:
Ana Maria Haldimann
Telephone +41 79 261 37 93
office@ana-style.ch
www.ana-style.ch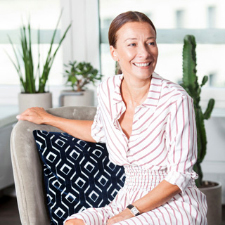 What to bring for safari
sturdy shoes (trekking shoes or solid sneakers are sufficient)
light shoes, flipflop/sandals to wear in camp
long trousers
shorts and/or light trousers
shirts, t-shirts, light blouses
jumper
light down jacket and/or rain jacket/windbreaker
scarf, hat, gloves and warm jumper (May to end of August and higher altitudes like Ngorongoro)
pyjama
bathing suit
sunglasses, sun hat, sun screen
toilet bag (towels and body wash are always available in camp)
personal medicines
glasses, contact lenses
headlight (especially for camping tours and because we can never find the light switches at night)
binoculars
camera with charger/batteries/adapter
passport, flight tickets, credit card, etc.
pen (to fill in immigration forms)
Natural colors (green, brown, khaki, beige) are preferable, for bush walks and gorilla trekking they are mandatory. Valuable items like binoculars, cameras, etc. as well as medicines and visual aids always belong in your hand luggage.
Gorilla Trekking Extras
hiking boots
rain jacket & rain trousers
hiking sticks (if required)
long socks where the pants can be tucked in (gaiters are mostly available in camp)
gloves (to protect your hands from thorns)
simple first-aid kit (including patches and disinfectant)
This could also be of interest to you