Accommodation
The River Club, with its Edwardian-style house and manicured lawns on the banks of the swift-flowing Zambezi River where hippo and crocodile float, seems to straddle the continents of Africa and Europe. Its main area is a wellappointed residence, with a comfortable lounge, large dining room, impressive library and wide veranda on which breakfasts and teas are taken. Lush gardens (where midday meals are often served) spread out beneath the trees and a croquet court is an ideal venue for a Pimm's-soaked croquet game. The pool seems part of the river itself, while a secluded deck with hammocks and loungers provides respite.
Ten luxury chalets are spread out amongst the riverine vegetation (seven River Suites, two Luxury River Suites with plunge pool and one Luxury River Family Suite with two bathrooms and private plunge pool). Their originality stems from the fact that one side is completely open to the river, so that there is an uninterrupted vista of the Zambezi and its far bank from both bed and bathtub. Each room looks west into glorious African sunsets. If you would like to indulge in even more luxury, consider the Princess Mary Suite.
Location
The River Club is situated 18 km upstream from the famous Victoria Falls on the banks of the mighty Zambezi. An adventure industry has grown up around Victoria Falls and Livingstone, offering every activity under the sun. Those in search of an adrenalin rush are spoilt for choice. The River Club offers the necessary distance and tranquillity.
Wildlife
The River Club is an ideal place to begin or end a safari and explore the Victoria Falls area. Although The River Club is not a traditional safari camp, elephants can often be seen in the Zambezi National Park opposite and hippo are regularly seen and heard in the river itself.
Game drives are also offered into the nearby Mosi-oa-Tunya National Park where there is an abundance of general game species like buffalo, giraffe, zebra, wildebeest and impala. There is also a chance of finding one of the rare rhinos. The rhinos are watched around the clock but visitors are allowed to leave the vehicle and get close to these magnificent creatures.
Activities
A visit to the spectacular Victoria Falls on the Zambian side of the Zambezi, sundowner boat trips or fishing trips, a visit to an African village, game drives in the Mosi-Oa-Tunya National Park, tennis and running & walking trails are all on offer.
The following activities can be arranged at extra cost: Helicopter and microlight flights, white water rafting, horse riding and a visit to the falls on the Zimbabwean side of the Zambezi - to name but just a few.
Good to know
A wellness centre houses a treatment room for manicures, pedicures, facials and massages as well as a newly renovated gym with electronic exercise equipment.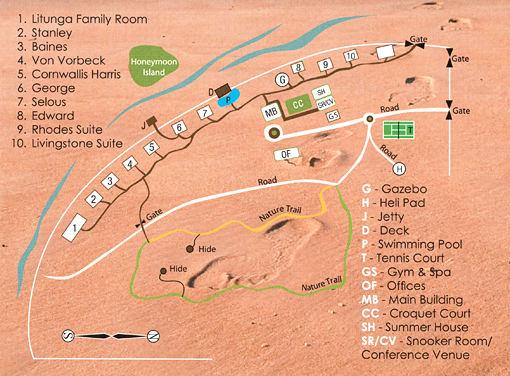 Your alternatives

Learn more about these areas