7 nights
Fly-In Safari
Kruger & Mozambique
Kruger National Park, Benguerra Island
---

Flight to Sabi Sabi Game Reserve
---
3 nights Sabi Sabi Game Reserve
Sabi Sands, Kruger
Yesterday, Today, Tomorrow – this is the motto under which the four lodges in the Sabi Sabi Reserve have been built, with Earth Lodge well and truly dedicated to 'Tomorrow'. An unconventional and ultra modern complex built amidst the spectacular bush landscape, Earth Lodge offers 13 luxurious suites with private plunge pools, a spacious main area and a luxurious spa. As the name suggests, Earth Lodge is built into the hillside and uses only natural, locally available materials in its construction.
Sabi Sabi Bush Lodge comprises 25 climate-controlled, thatched suites decorated and furnished in a traditional safari style. Each room has an en-suite bathroom, lounge and outdoor deck. Guests can also relax with a drink at the swimming pool located near the main building. The lodge has been providing luxury accommodation and uncompromising high standards of service, efficiency and personalised attention for the past 30 years. The Mandleve Suite offers guests more room and a small private swimming pool. Furthermore, two villas with two separate en-suite bedrooms and a private swimming pool were built to accommodate families.
Sabi Sabi Little Bush Camp comprises 6 luxury suites, each with a private, heated plunge pool on its own veranda offering unparalleled views over the Msuthlu River. Further facilities at the lodge include a bar, boma (for dinner under the stars), swimming pool and lounge. Little Bush Camp offers a very comfortable, intimate atmosphere, highly attentive staff and spectacular views over the sandy riverbed.
In contrast to Earth Lodge's futuristic style, Selati Camp harks back to the days of the great safari era. The former Selati Railway line passes close by and the railway theme can be found throughout the camp, with nostalgic collectors' pieces found in every room. This comfortable, intimate camp offers a large pool and cosy snugs on the veranda where guests can relax and unwind. Located in the Sabi Sabi Reserve, seven tastefully appointed suites, the Honeymoon Suite and the Presidential Suite complete this small but exquisitely formed camp.
Location
Sabi Sabi Reserve is situated in the western part of the Kruger National Park in the so-called Greater Kruger Area. Sabi Sabi can be reached by air from Johannesburg in approximately 1 hour 20 minutes.
---

Flight to Nelspruit
---
---

Flight to Vilanculos
---
---

Flight to Azura Benguerra
---
4 nights Azura Benguerra
Benguerra Island
Azura Lodge is situated on Benguerra Island in the Bazaruto National Park. All villas are located just a short distance away from the beach. Each is equipped with private plunge pool, air conditioning, electric fan, minibar, and veranda with loungers and couch. A private sala (daybed) located on the beach invites guest to sit and relax. Choose between a Beach Villa (small but beautiful, shower only), Luxury Beach Villa (larger, shower only), Infinity Beach Villa (larger pool, bath and shower), Royal Beach Villa (10 metre fully tiled pool, extra lounge and 30m beach frontage) Villa Amizade (2 bedrooms, bar, 10 metre pool), and the large Presidential Villa for up to six guests. Each villa has its own local villa host. The main building comprises reception, dining area, bar, library with TV and Internet, curio shop, and the activity centre.
Location
The Bazaruto Archipelago is located off the calm east coast of Mozambique. The island is situated 5 minutes (by helicopter) from the town of Vilanculos, which is accessed in two hours by plane from Johannesburg. Fantastic sunsets, pristine nature and a dedicated Azura team await your arrival. Most of the employees come from the three villages on Benguerra Island, and live in very humble conditions. Guests may catch sight of fishermen in their colourful dhows or see women picking muscles. The three lodges located on the island are actively involved in helping the locals; a recently opened school is one example of their commitment.
---

Flight to Vilanculos
---
---

Flight to Johannesburg
---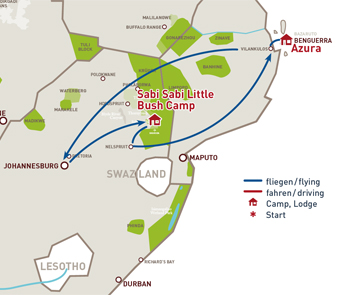 Details & Prices

Price per person in CHF

Double
Single
01 Mar 20 - 19 Dec 20
8'032
11'324
20 Dec 20 - 31 Dec 20
8'391
11'863



Basic Information


Individual journey. The journey will be planned on your preferred dates.

Duration 7 nights. Min 2 guests. Minimum age 6 years. Weight limit of luggage 15 kg. Luggage in one soft bag only.

Inclusive / Exclusive

Sabi Sabi Game Reserve: Little Bush Camp. All meals, drinks (except premier brands), twice daily activities with one of the camp guides.
Azura Benguerra: Infinity Beach Villa. All meals, drinks (beer, local spirits, house wine, soft drinks, water, tea and coffee, one sundowner cocktail per day), butler service, WIFI.

Activities: One island drive in a landrover, sunset dhow cruise, use of snorkeling equipment, kayaks and paddleboards.

Excluded are spa, diving, dive courses, deep sea fishing, snorkeling at the reef, day trips, horse riding.

Inner-African flights from Nelspruit to Vilanculous and from Vilanculous to Johannesburg are not included.

Not included are international flights, gratuities, compulsary comprehensive travel insurance, visa fees, local airport fees, personal purchases.

Learn more about these areas