14 nights
Fly-In Safari
Classic Wing
Nairobi, Amboseli Chyulu Hills, Laikipia Lewa, Maasai Mara
---

Travel by road to Ole Sereni
---
1 night Ole Sereni
Nairobi
Ole Sereni is ideally located for an uncomplicated overnight stay in Nairobi. Its location opposite Nairobi National Park means it is not unusual for guests to spot a rhino or the odd gazelle while enjoying dinner.
The sympathetically furnished rooms could be better soundproofed. However, the hotel has a good outdoor restaurant where guests can sit comfortably in the evening. It also boasts an outdoor pool with bar, a large indoor restaurant and a rooftop bar.
---

Flight to Tortilis Camp
---
3 nights Tortilis Camp
Amboseli National Park
Tortilis Camp is named after the flat-topped umbrella thorn tree, the Acacia Tortilis, which surrounds the camp, With Mount Kilimanjaro peering down over the entire camp, each of Tortilis' guest tents has a glorious view of the mountain. The 16 tents are all spacious, with king or twin beds, elegant en-suite bathrooms and spacious verandahs.
There is a main lounge, bar and dining area, all exquisitely built with natural materials and thatched roofs. Within the lush gardens, the swimming-pool is shaded by palms and acacia Tortilis, a haven for tropical birds. The pool has bar service and board games.
The Private House and Family Tent are located slightly separate to the main camp, upon the hill where they share a pool and enjoy magnificent views of Kilimanjaro.
Location
Tortilis Camp is located in the private conservancy Kitirua bordering Amboseli on the western edge of the National Park.
Amboseli became a wildlife sanctuary in the 1940s and was declared a national park in 1974. Amboseli can be very dry and dusty, but the permanent swamps and lakes sustain big numbers of elephants and plains game. It is probably here, at Amboseli National Park, where you encounter Africa's largest and most beautiful big-tusked elephants. Largely untouched by poaching, the park supports about 1500 of these great animals. A photo of an elephant with snow-capped Kilimanjaro in the background is the number-one subject for most vistors and worth the entire trip.
Mount Kilimanjaro, Africa's highest mountain, rises more than 5000m above the Amboseli plains. The swamps in Amboseli are fed by rain and meltwater from the peaks of Kilimanjaro.
---

Flight to Sirikoi
---
3 nights Sirikoi
Lewa Wildlife Conservancy, Laikipia
As a small and intimate family-owned safari lodge, Sirikoi offers a sure sense of exclusivity and high level service, but also manages to be welcoming, comfortable and unpretentious.
The main lodge and dining deck, four luxury tents, Sirikoi Cottage and private Sirikoi House are perfectly positioned along the spring-fed Sirikoi stream, from which the lodge derives its name. All buildings have a view of the lawns leading out onto the wetland and waterhole, which has become a favorite passage and sanctuary for wildlife.
Each accommodation has a private outside deck to make the most of "armchair game viewing". All guest tents are spacious and tastefully designed, with unique decor touches, a comfortable sitting area, free-standing bathtub, rain-shower and fireplaces. The Cottage (4 guests) and private House (6 guests) have two and three separate bedrooms with en-suite bathrooms, private living and dining rooms and decks.
Sirikoi House comes with a private vehicle and guide, as well as chef and team of staff. The cozy main mess or lounge is decorated with a combination of African art and textiles, impressive bronze wildlife sculptures, handmade furniture and fascinating artifacts collected by the family over four generations.
Sirikoi's beautiful infinity pool is perfectly refreshing in the hot midday sun. The lodge offers an incredible farm to plate dining experience. The one-acre organic garden is a hidden gem found just behind the lodge. Avocado, banana, berries - over 80 fruits, vegetables and herbs from the garden make up the majority of the lodge's fresh produce. A place to feel spoilt in a very authentic way.
Location
Sirikoi Lodge is surrounded by 68,000 acres of the pure wilderness of Lewa Wildlife Conservancy (Lewa Downs). The Lewa Wildlife Conservancy is a UNESCO World Heritage Site and an award-winning model for community conservation. Starting with only 15 black rhinos in 1984, Lewa's rhino population has since risen steadily, making Lewa a true rhino conservation success story in East Africa.
Sirikoi is just a 20 minute drive west from the Lewa airstrip, which is served by both private charters and scheduled flights from Nairobi's Wilson Airport – a 50 minute flight away.
---

Flight to Saruni Samburu
---
3 nights Saruni Samburu
Kalama Conservancy, Samburu
Saruni Samburu is a wonderful lodge located in Kenya's wild north. The lodge is built into and around a giant volcanic rock face. Perched on this spectacular viewpoint, the six luxury villas are open and spacious, heralding spectacular views over Kenya's Northern Frontier District and Mount Kenya in the distance.
There are two villas both with en-suite bathrooms and dressing rooms, spacious living, dining area and outdoor veranda. Four further villas are designed for families with two en-suite bedrooms with individual dressing rooms and one common large lounge and dining area, as well as several verandas.
Guests can enjoy the vast panoramas from the dining and lounge area, the two infinity pools and the Samburu Wellbeing Space. Nearby is a ground-level photographic hide next to a waterhole where the animals gather to drink.
Location
There are scheduled flights from Nairobi Wilson airport to Kalama Airstrip followed by a 40 min road transfer to Saruni Samburu. Alternatively the airline may use Oryx Airstrip in Samburu National Reserve, about a 1 hour drive from the lodge.
Saruni Samburu is located in tribal lands to the north of Samburu National Reserve. The lodge overlooks a vast private wildlife sanctuary called Kalama Conservancy, and has exclusive access to the surrounding 800km² of pristine, protected wilderness.
Saruni Samburu is the only lodge in Kalama Conservancy and guests enjoy exclusive access to the conservancy. The lodge is also the sole source of income for the communities found in the area.
---

Flight to Richard's Camp
---
4 nights Richard's Camp
Maasai Mara, Mara North Conservancy
Richard's River Camp is part of the private Mara North Conservancy. The nearby Njageteck River and the permanent waters of the Ngoyanai springs attract an abundance of wildlife to the area surrounding the camp.
With just seven tents, the camp offers a truly private experience and reflects the spirit of owners Richard Roberts & Liz. Richard himself grew up in the Maasai Mara, in the Ol Chorro Conservancy, where his parents were active nature conservationists. The tents are stylishly furnished, each with a walk-in closet, en-suite bathroom and outdoor area with seating. To the front of the lodge hang hammocks, and cushions are scattered around the meadow, which adds to the camp's relaxed and romantic atmosphere.
For families, there is a large tent comprising two en-suite tents joined by a common living room.
Location
Richard's River Camp sits in the Mara North Conservancy (324 km²), which borders to the north with the actual Maasai Mara Game Reserve. The conservancy is an amalgamation of some 800 Maasai landowners and twelve safari camps, all of who have joined forces to offer their land to sustainable tourism.
The wildlife in the Mara North is fantastic and exciting game drives are guaranteed. The number of vehicles here is naturally much lower than the publically accessible Maasai Mara Game Reserve.
The camp is reached by air from Nairobi Wilson via the Mara North Airstrip; flight time from Nairobi Wilson is approximately 45 minutes
---

Flight to Nairobi
---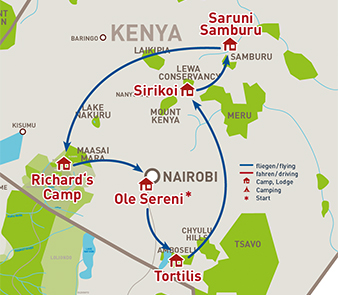 Details & Prices

Price per person in CHF

Double
Single
01 Oct 21 - 31 Oct 21
13'029
17'649
01 Nov 21 - 30 Nov 21
n/a
n/a
01 Dec 21 - 19 Dec 21
12'338
16'713
20 Dec 21 - 31 Dec 21
15'368
22'532
01 Jan 22 - 02 Jan 22
15'444
22'608
03 Jan 22 - 03 Jan 22
15'002
22'063
04 Jan 22 - 05 Jan 22
14'597
21'454
06 Jan 22 - 06 Jan 22
14'243
20'910
07 Jan 22 - 28 Feb 22
13'662
19'748
01 Mar 22 - 31 Mar 22
12'804
18'723
01 Apr 22 - 14 Apr 22
12'450
18'196
15 Apr 22 - 15 May 22
n/a
n/a
16 May 22 - 31 May 22
12'450
18'196
01 Jun 22 - 30 Jun 22
15'595
23'383
01 Jul 22 - 31 Aug 22
16'992
25'642
01 Sep 22 - 30 Sep 22
15'966
23'822
01 Oct 22 - 31 Oct 22
15'524
23'277
01 Nov 22 - 30 Nov 22
n/a
n/a
01 Dec 22 - 17 Dec 22
14'819
22'226
18 Dec 22 - 19 Dec 22
15'382
23'351
20 Dec 22 - 31 Dec 22
17'142
25'894



Basic Information


Individual journey. The journey will be planned on your preferred dates.

Duration 14 nights. Min 2 guests. Minimum age 8 years. Weight limit of luggage 15 kg. Luggage in one soft bag only.

The flight from Amboseli to Lewa goes via Nairobi. All other flights link the lodges without going via Nairobi.

Inclusive / Exclusive

Includes all transfers from Nairobi to the hotels/camps to Nairobi

Ole Sereni: Double Room. Breakfast.
Tortilis Camp: Double Room. All meals, drinks (except premier brands), laundry service, twice daily activities with one of the camp guides.
Sirikoi: Double Room. All meals, drinks (except premier brands), laundry service, twice daily activities with one of the camp guides.
Saruni Samburu: Double Room. All meals, drinks (except premier brands), laundry service, twice daily activities with one of the camp guides.
Richard's Camp: Double Room. All meals, drinks (except premier brands), laundry service, twice daily activities with one of the camp guides.

Not included are international flights, gratuities, compulsary comprehensive travel insurance, visa fees, local airport fees, personal purchases.

Learn more about these areas
Nairobi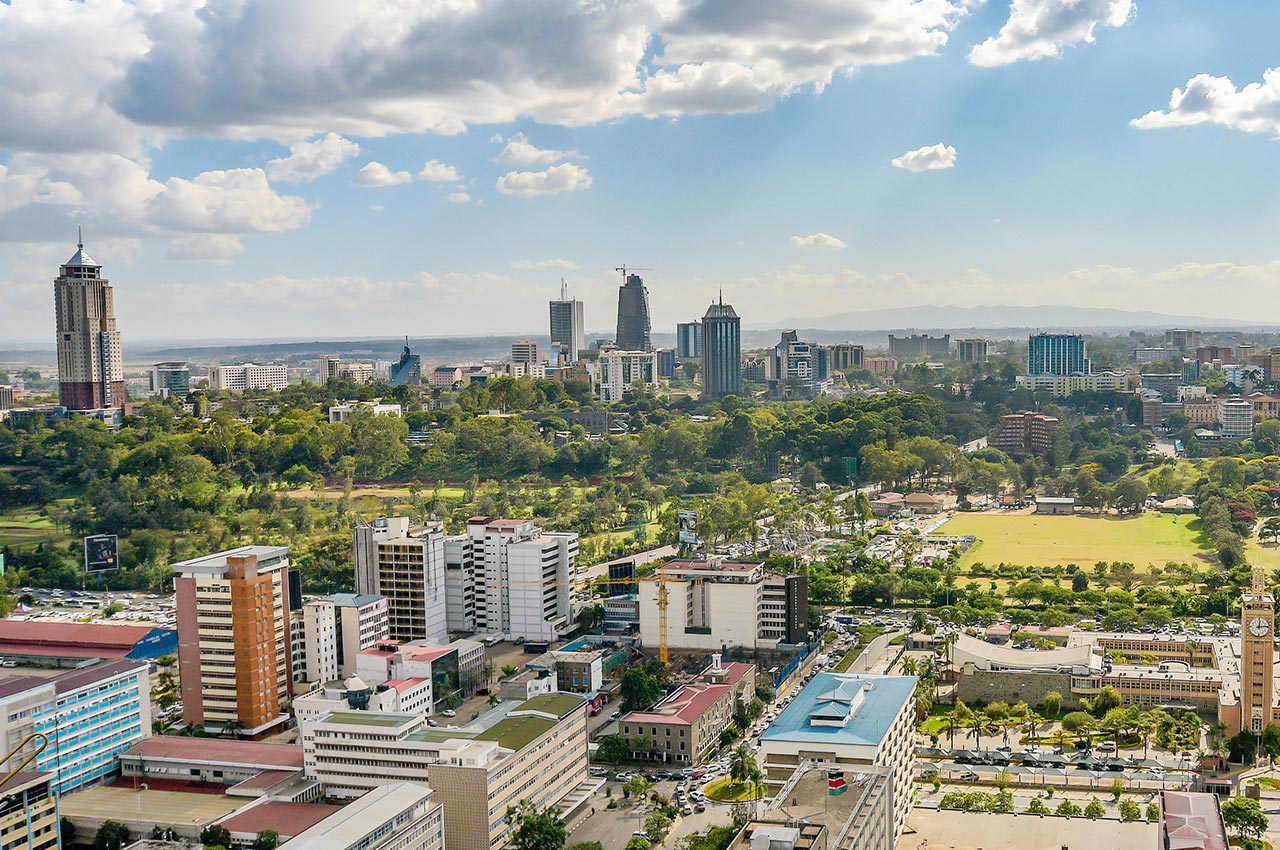 Maasai Mara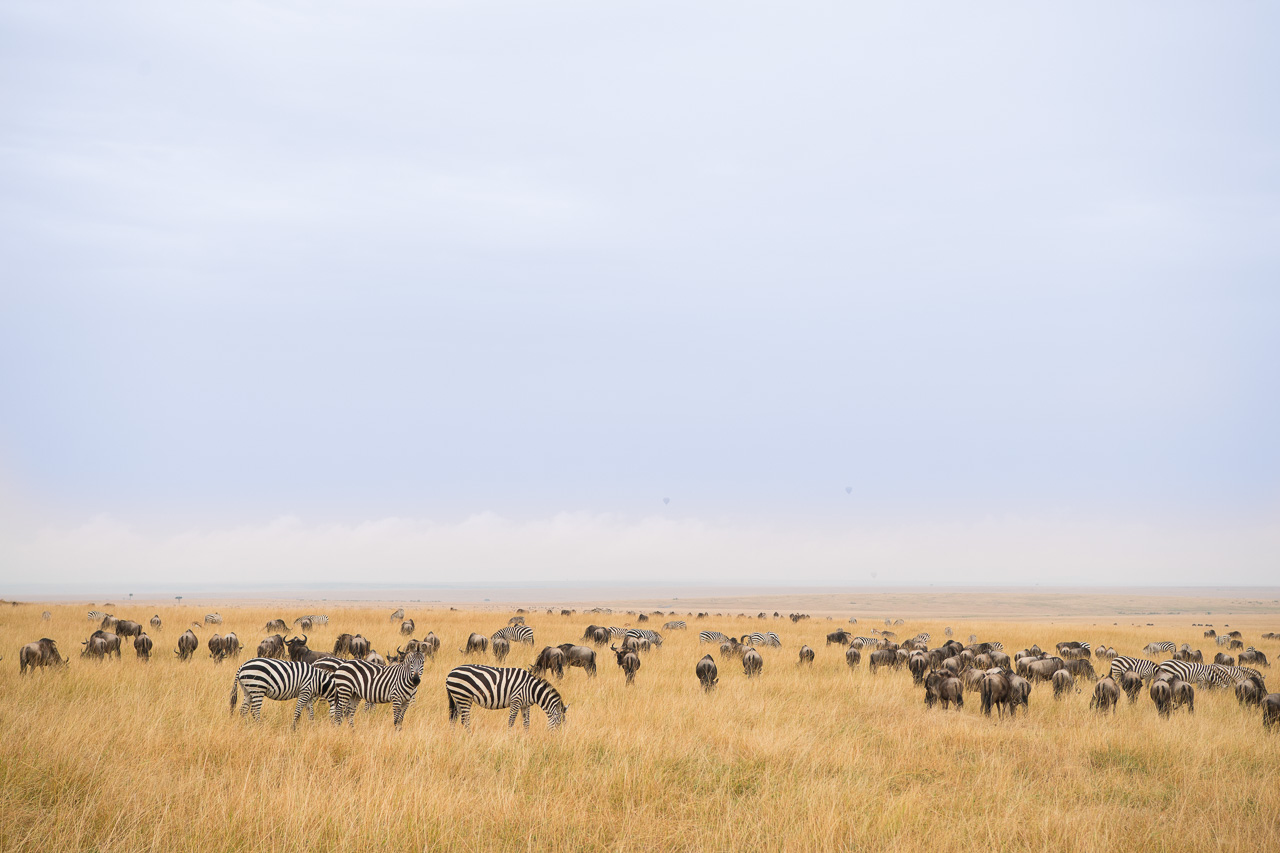 Samburu National Reserve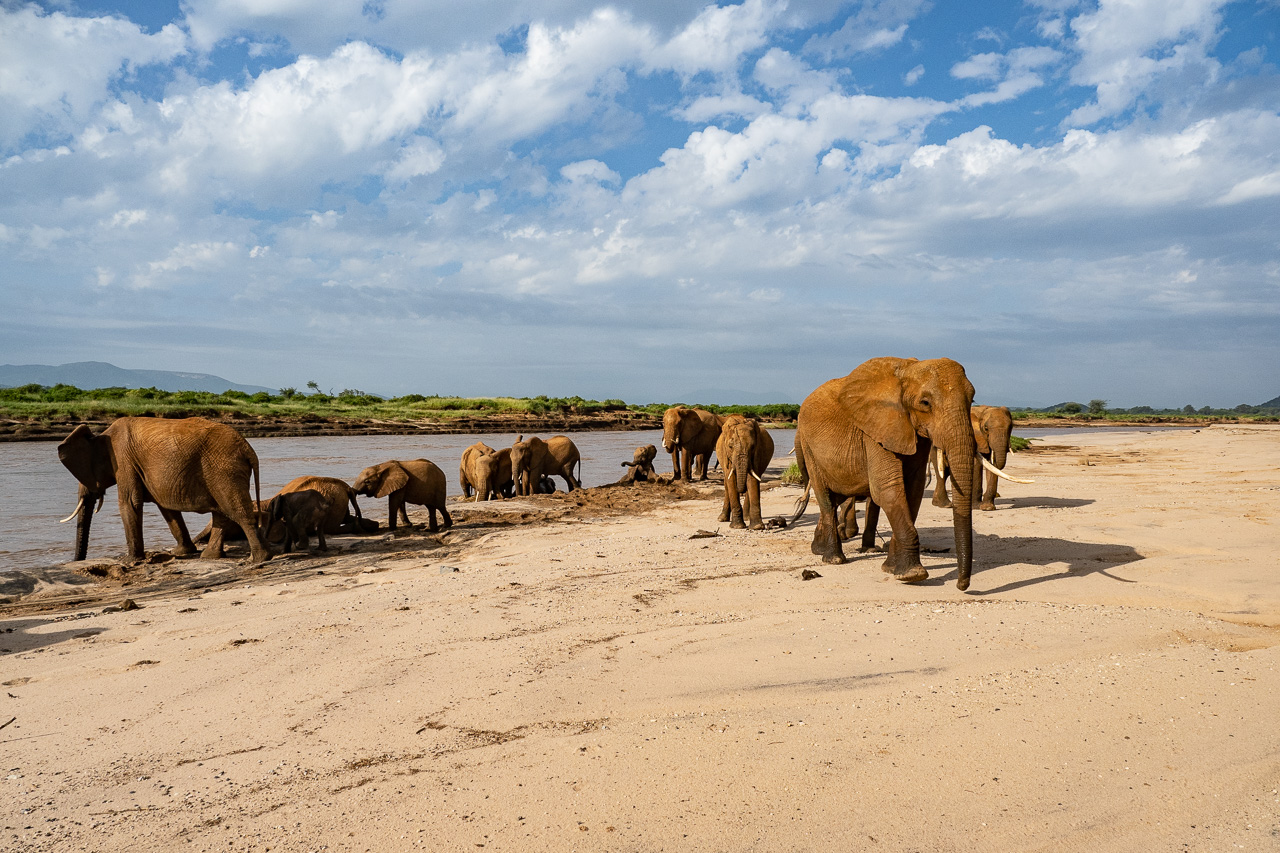 Laikipia Plateau
Amboseli National Park