9 nights
Mobile Safari
Savuti Explorer
Moremi, Khwai, Savuti, Chobe
On this mobile safari you change location every second day.

You visit the famous safari areas of Moremi, Khwai, Savuti and Chobe. You overnight in comfortable, mobile dome tents with en-suite bathroom and hot bucket shower (4 nights) and in permanent safari camp (4 nights). Enjoy game drives in custom built 4 x 4 Land Cruisers. You change location every second day. Your trip ends in Kasane where you you have the chance to experience a boat trip on Chobe River.

Should you wish to visit Victoria Falls, we can arrange this for you as an extension.
1 night Thamalakane River Lodge
Maun
No information found for this location, translation pending ...
---

Travel by road to Moremi Luxury Mobile Camp
---
From Maun, your guide drives northwards out of the town, then crosses the Thamalakane River to reach Southgate of the Moremi Game Reserve after about two hours. A challenging 4 x 4 drive takes you deeper into Moremi, the vehicle crosses forts, bridges and rivers, until you reach your private camp site in Moremi Game Reserve.
2 nights Moremi Luxury Mobile Camp
Moremi Game Reserve
Moremi Game Reserve is one of Africa's best safari areas. You spend two exciting days on game drives, with good chances to see lions, elephants, buffaloes, wild dogs and many antelopes.
---

Travel by road to Khwai River View Camp
---
Today we break camp and head to Khwai, the eastern section of Moremi. Your drive takes you through Mopani forests and open plains where you will be able to see different species of game and have lunch en-route.
2 nights Khwai River View Camp
Khwai Community Area
Khwai River View is a rustic tented safari camp located close to the Khwai village within the Khwai community. The camp is simple and suitable for guests seeking an Out of Africa safari experience. It offers 12 en-suite safari tents with twin and single beds, bed side tables, bedside lamp, bottled mineral water, glasses, cupboard, luggage rack, large open mosquito gauze windows, and large open front door. Two safari chairs with small wooden table are placed on the verandah. Towels and bathroom guest amenities are provided. Each tent has a private bathroom, flushing toilet and en-suite outdoor shower. Solar lighting is used for the verandah, bedroom and bathroom area. Please note there are no charging facilities in the rooms.

If you need to charge your phone, camera or laptop you are welcome to do so at the main area. The camp's power is supplied by solar power. The main tented area has a lounge with comfy sofas, a bar and dining area. Evening drinks can be enjoyed around the camp fire, set overlooking the river into Moremi Game reserve.
Location
Khwai River View Camp is located in the game rich Khwai Concession NG19, one of the most diverse areas in northern Botswana, which seldom disappoints when it comes to producing extraordinary wildlife experiences. The Khwai Concession lies in the north-eastern corner of the Okavango Delta adjoining the Moremi Game Reserve.
It is a thirty minutes flight from Maun. The transfer from the bush airstirp to the camp takes approximately another 20 minutes.
---

Travel by road to Savuti Luxury Mobile Camp
---
A longer drive along the Mababe Sand Ridge takes you further north to the Savuti area, where you will spend interesting days exploring the Savuti area.
2 nights Savuti Luxury Mobile Camp
Chobe Nationalpark
Sie befinden sich nun bereits im Chobe Nationalpark. Das Savuti Gebiet ist bekannt für seine hohe Konzentration an Elefanten, die hier um das Wasser kämpfen, ausserdem sieht man viele Löwen, Hyänen, Zebras, Impala, Gnu, Giraffen, Tsessebe, Büffel, nur um einige zu nennen.
---

Travel by road to Chobe Riverfront
---
The drive to the Chobe River follows a deep sand track and takes approximately 5hrs. There is enough time to enjoy lunch on the banks of the river and do an afternoon game drive on the way to Kasane.
2 nights Chobe Riverfront
You will spend two nights in a lodge on the banks of the Chobe River, eg. Mowana Lodge, Chobe Safari Lodge or Chobe Bush Lodge.
On the next morning your guide will take you on a game drive along the river, followed by a boat trip in the afternoon. The Chobe Riverfront is known for the many, many elephants that come down to the river to quench the thirst. With a little luck, you will see elephants cross the river on their way to Sedudu Island or Namibia.
---

Travel by road to Kasane
---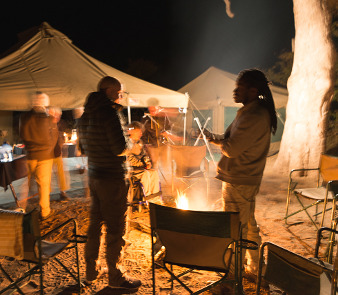 Details & Prices

Price per person in CHF

Double
Single
29 Nov 21 - 07 May 22
n/a
n/a
08 May 22 - 31 Oct 22
5'464
6'830



Basic Information


Guided tour. A professional guide will accompany you on this trip. This journey starts on certain dates only. You travel by vehicle only.

Duration 9 nights. Min 2, max 10 guests. Minimum age 12 years. Weight limit of luggage 20 kg. Luggage in one soft bag only.

Inclusive / Exclusive

Includes all transfers from Maun to the hotels/camps to Kasane / Viktoria Fälle

Thamalakane River Lodge: Chalet. Dinner.
Moremi Luxury Mobile Camp: Overnight in dome tents with bed rolls, linen, pillows. All meals, drinks, activities.
Khwai River View Camp: Double Room. All meals, drinks (except premier brands), twice daily activities with one of the camp guides.
Savuti Luxury Mobile Camp: Overnight in dome tents with bed rolls, linen, pillows. All meals, drinks, activities.
Chobe Riverfront: Double Room. Dinner, breakfast.

Not included are international flights, gratuities, compulsary comprehensive travel insurance, visa fees, local airport fees, personal purchases.




Travel Dates

08 May 22
19 Jun 22
10 Jul 22
07 Aug 22
28 Aug 22
11 Sep 22
09 Oct 22